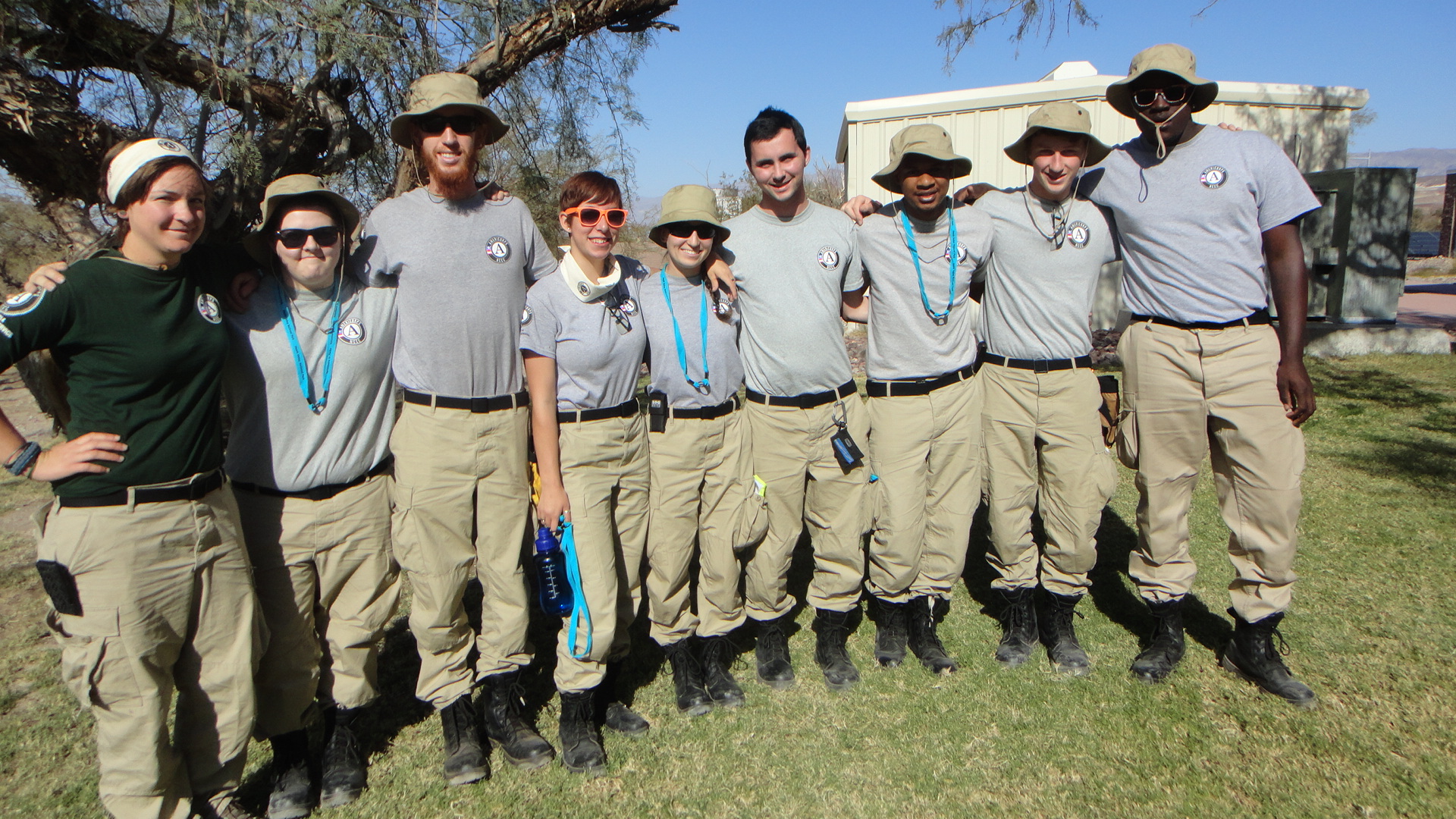 News Release Date:
December 16, 2013
Death Valley, CA – For the next several weeks, an AmeriCorps National Civilian Community Corps (NCCC) team of nine members will be working alongside the National Park Service (NPS) to restore and enhance several park areas. The team arrived November 14th and will be staying until December 19th while camping at an NPS campground and working alongside Park Ranger Charlie Callagan.
The AmeriCorps NCCC team will be serving with the National Park Service to further the mission of preserving America's national parks natural scenery for public enjoyment. Park Ranger Callagan has worked at numerous national parks throughout the country and has been at Death Valley for over 20 years. He brings a wealth of knowledge and experience to the team throughout their weeks of service.
During their time in Death Valley NP, the team will be working at various sites doing stream restoration, invasive species removal, as well as removing over 3,000 lbs. of metal fencing to clear land for wildlife to access water from springs. The team will also be clearing plane wreckage, removing over 1200 lbs. of metal debris to make the site conform with wilderness character.
Corps Member Stephen Long commented on the team's commitment to the next weeks of service in the park, stating, "We are eager to continue our work to restore the natural beauty of Death Valley so that others can enjoy the amazing things we see every day". This commitment to service is exemplified in the work of the AmeriCorps NCCC members and shared throughout the National Park Service. Together, they will work to maintain and preserve Death Valley as the national treasure it has always been.
The AmeriCorps National Civilian Community Corps (NCCC) and its FEMA Corps units engage 2,800 young Americans in a full-time, 10-month commitment to service each year. AmeriCorps NCCC members address critical needs related to natural and other disasters, infrastructure improvement, environmental stewardship and conservation, and urban and rural development; FEMA Corps members are solely dedicated to disaster preparedness, mitigation, response and recovery work. The programs are administered by the Corporation for National and Community Service (CNCS). CNCS is the federal agency that engages more than five million Americans in service through its AmeriCorps, Senior Corps, Social Innovation Fund, and Volunteer Generation Fund programs, and leads President's national call to service initiative, United We Serve. For more information, visit NationalService.gov.
-NPS-