Distance Learning
Death Valley National Park offers free, distance learning programs for classes. The programs enhance teacher curriculum by meeting national teaching standards. Programs are available via the teacher's preferred virtual platform.

Our distance learning programs and lesson plans follow the flipped classroom approach:
First, Pre-Virtual Trip activities expose students to asynchronous activities (e.g., video, reading). These activities allow students to engage, explore, and explain the program's content.

Then, a live ranger joins students for a scheduled Virtual Trip. The ranger will discuss students' results from the Pre-Virtual Trip activities. These discussions will forge a deeper connection for students to the content. Students will use higher order thinking skills during this session to extend and evaluate program content.

Finally, Post-Virtual Trip activities allow for higher order follow-up through more asynchronous activities. These activities allow for re-engagement, extending students' knowledge and understanding of program content.
Programs
Lesson plan materials are available for download on our Teaching Resources page under the "Distance Learning" header. Classes must complete the Pre-Virtual Trip activities associated with the selected program before their scheduled Virtual Trip date.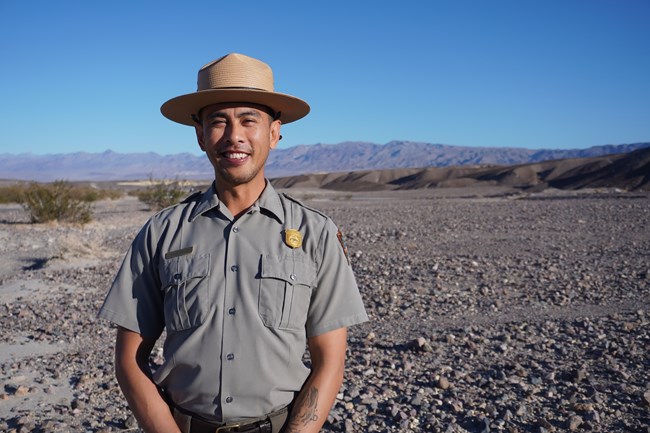 Ask-a-Ranger
Join a park ranger to learn about the National Park Service and what makes Death Valley special. We are happy to answer any questions your students have about the park, including what park rangers do in one of the most extreme places on Earth! If your students have special topic interests or advance questions, please include those during registration, and we will do our best to accommodate.

Note: There are currently no Pre- or Post-Virtual Trip activities associated with this program.

Target Audience: This program can be adapted for all grade levels based on class interests.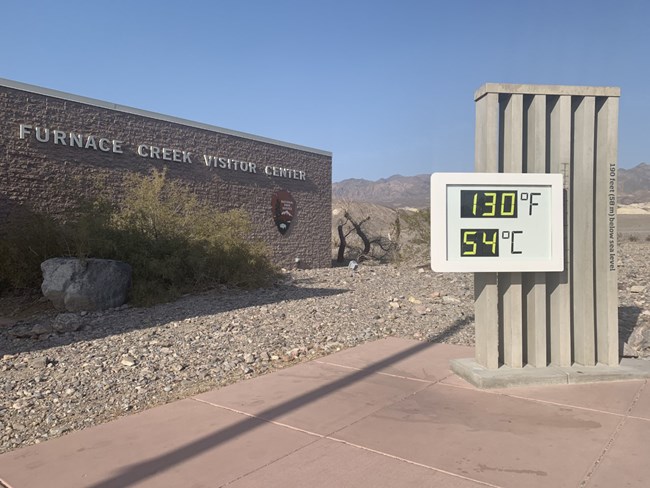 Extreme Temperatures
Death Valley is known for reaching record-breaking temperatures during the summer. So why is Death Valley so hot? Why is Death Valley so dry? Students will explore how geography, geology, topography, and weather interact to create the extreme desert climate of Death Valley. Students compare their findings with their own community & other National Park Service units. A park ranger will join your students to discuss results and how living organisms can survive extreme temperatures.

Target Audience: This program is designed to meet earth science standards for upper elementary students.
Request a Virtual Trip
Registration Status: CLOSED
We have concluded distance learning programs for the 2021-22 school year. We will resume Virtual Trips in Fall '22 - Spring '23. Please contact the education program staff if you have questions.

Programs are generally available Monday thru Friday from 9:00am until 4:00pm PT. Each program lasts approximately 45 minutes. Registration for distance learning programs is generally available from November through April and is completed in two easy steps:
Book a program, date, and time on our Bookings Calendar (approximately 5 minutes)
Provide additional information about your class via the confirmation email received after booking (approximately 5 minutes)
If you have additional questions or inquiries about our distance learning program, please contact the education program staff.
Potential Issues
Cancellations
Our team understands issues come up that require you to cancel your Virtual Trip. We request that you do so as early as possible so other groups have an opportunity to register for your slot. You can cancel your registration in one of the following ways:
through your registration/confirmation email
call 760-786-3226
No Shows
At the time of your scheduled program, our team will wait at least fifteen (15) minutes, depending on registered programs for that day. We will send a courtesy email followed by a courtesy call before the 15 minutes have elapsed. After the grace period, our team will follow-up with an email to reschedule.
Power Outages
Death Valley is notorious for high wind speeds. These severe weather events (and other circumstances) can cause a loss of power and/or Internet in the park. In the case of these events, our team will do our best to contact you as soon as possible, pending available communications. We appreciate your patience and understanding, and we will extend the same if you experience similar issues!
Last updated: June 10, 2022