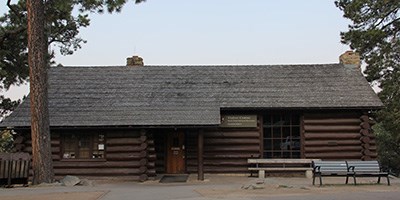 The Devils Tower National Monument Visitor Center was completed in 1935 with the help of the Civilian Conservation Corps. It was constructed from ponderosa pine logs and other local materials, and was orginially designed as an administration building for the park.
Today, this quaint structure serves as the primary contact station for visitors. Inside you can find park staff, the
Devils Tower Natural History Association
Bookstore, and exhibits which teach the natural and cultural history of the park. Visitor center hours vary throughout the year. Typically the building is open longer starting in late May through early September, with limited hours during the winter months. See below for
current hours
.