Places To Go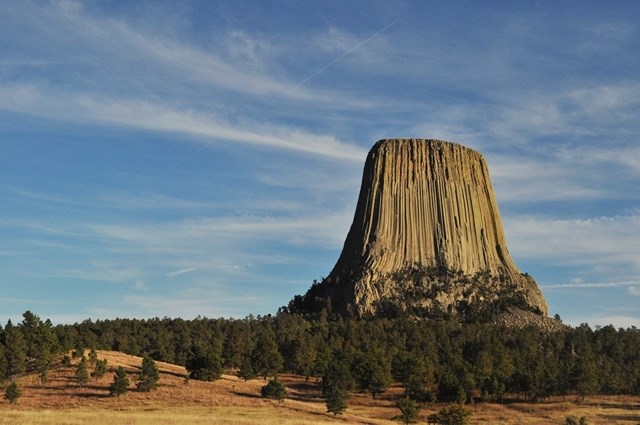 Devils Tower National Monument covers 1,347 acres (5.5 sq. km). The park offers a host of things to do and places to go.
Devils Tower National Monument Visitor Center
The visitor center at Devils Tower National Monument contains interpretive displays and a park staff member to answer questions and provide information. You will also find the Devils Tower Natural History Association, the non-profit park partner which runs the bookstore and souvenir shop. The visitor center was built in the 1930s by the Civilian Conservation Corps and is listed on the National Register of Historic Places.
Visitor center hours
change seasonally.
Devils Tower Climbing Office
During the summer, our climbing office is open for climbing advice, registration and information. For online climbing information, please
visit our climbing page.
Other Places of Interest
Visit the Prairie Dog Town
The activities of the prairie dogs are fun to watch! Just remember not to feed them! They may be cute, but they bite and carry disease. Human food can cause dehydration, malnutrition, and starvation for prairie dogs. It also habituates them to humans, so they come closer to the road and become roadkill.
Learn more about
Tularemia
, a disease found in prairie dogs.
Take a Hike
The Tower Trail: paved, 1.3 mi (2 km) loop around the base of Devils Tower
Red Beds Trail: not paved, 2.8 mi (4.5 km) loop around Devils Tower Hill, connected to the Joyner Ridge Trail, the Valley View trail and the South Side Trail
The Joyner Ridge Trail: not paved, 1.5 mi (2.4 km) loop on the ridge north of Devils Tower
Valley View Trail and the South Side Trail: not paved, both .6 mi (1 km), both feature the prairie dog town, run along the Belle Fourche River, and provide great valley views of Devils Tower and the rock strata beneath.
Have a Picnic
Sitting in a stand of oak and cottonwood trees are picnic tables, a picnic shelter, and restrooms. Eat at your leisure looking up toward Devils Tower, admiring the scenery and the fresh air. You could even take a short walk and admire the prairie dog town or the beautiful sculpture nearby. Turn left past the prairie dog town to reach the picnic area.
Visit the Circle of Sacred Smoke Sculpture
The Circle of Sacred Smoke sculpture honors the indigineous people of America. It was created as a gesture of world peace by sculptor Junkyu Muto. The sculpture is designed to raise visitor awareness of the importance of the Tower to over twenty affiliated tribes. It is the third of seven works planned around the world. The first two are located at Vatican City and Bodhi, India. The sculpture represents the first puff of smoke from a newly lit pipe. The sculpture is accessible by road from the picnic area, or by trail from the prairie dog town.


Last updated: May 3, 2019