Little Missouri Buttes
Visitors to Devils Tower National Monument will spot the Tower formation from miles away. Many also notice several mound-shaped formations at a distance from the Tower. These are the Little Missouri Buttes.
Located about 3.5 miles to the northwest of the Tower, the buttes take their name from the Little Missouri River, which has its headwaters nearby. In 1892, Wyoming Senator Francis Warren sought to protect the entirety of Devils Tower and the Little Missouri Buttes by creating a forest reserve encompassing all of the formations. Although only the Tower was permanently protected, the other buttes are still linked to the Tower both visually and geologically.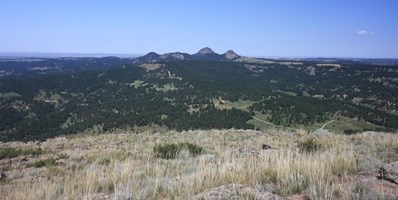 How Did They Form?
The best place in the park to see the Little Missouri Buttes is from the Tower summit. From here you can clearly see all four buttes - something which can be difficult elsewhere. Two of the buttes rise slightly higher in elevation than the Tower, while the other two are slightly lower.
The buttes are formed of the same type of rock as the Tower, called phonolite porphyry. Some geologists think they were from the same intrusion of magma that created the Tower. Although some columnar jointing is evident in the Little Missouri Buttes, they lack the definitive appearance and grandeur of Devils Tower.
Last updated: October 5, 2022