American Indians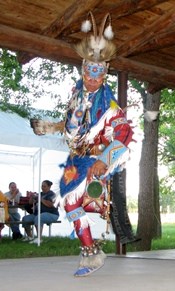 Historically, many tribes of the Great Plains and Black Hills regions had connections with the area around Devils Tower. Today there are over two dozen tribes associated with the Tower site. Indigenous people of the region today include:
Arapaho

Crow

Cheyenne

Shoshone

Lakota
Most tribes that lived in or near the Black Hills had individual oral histories about the creation of the Tower. Although there are similar elements to many of these stories, they are unique in the details. The names ascribed by the various nations for the Tower also display similar variations. In modern English, they are translated as "Bear Lodge," "Bear's Tipi," "Tree Rock," "Gray Horn Butte," and more. Some of these stories are shared on the park website.
Stories and histories shared by tribal members indicate that the Tower was a sacred site - a place for winter camps, vision quests, and summer ceremonies. You can learn more about how and why this place is held sacred by American Indians on our website.
Indian tribes were gradually extirpated from the region as early white explorers, and later white settlers, arrived to the area. The United States government worked to remove the cultural ties many people had with the Black Hills and surrounding sites like the Tower. During the end of the 1900s, a rebirth of American Indian traditions and values inspired new generations to reconnect with their historical roots.
Today, many tribes still utilize the park for traditional ceremonies. Visitors will observe prayer cloths and prayer bundles attached to trees around the park, especially along the Tower Trail. These represent a tangible connection which native peoples still maintain with this area. Please do not touch, disturb, or photograph these cloths.
Managing the national monument for both modern and traditional uses does have its challenges. As climbing became a more popular form of recreation at the Tower, Native American communities raised concerns; many view climbing the Tower as disrespectful of their sacred site. Furthermore, indigenous people generally feel the name "Devils Tower" to be inappropriate and have lobbied for a name change. Tribal members are not unique in these concerns, and park staff work with climbers, the tribes, and all visitors to educate people about differing cultural perspectives.
Last updated: September 1, 2023
American Indians and Bear Lodge