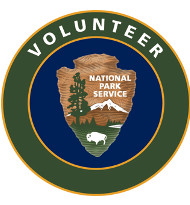 Every year, hundreds of thousands of people donate their time and energy to support the National Park Service (NPS). Whether they assist resource management for a few hours on their weekend, stay on call to help with emergency services, or work full-time as a campground host or park interpreter, volunteers are an integral part of the NPS workforce.
If you are interested in volunteering for the park service, look below for current opportunities at Devils Tower National Monument. You can also use the links to find information about volunteering for the NPS, or volunteer opportunities at other park units. If you have questions about volunteering at Devils Tower, or would like to offer your services in any way, please email us - volunteer positions are not limited to what you see below. Thank you for your service and for supporting your national parks!
To connect with other NPS volunteers, visit the NPS volunteers Facebook page.