Volunteer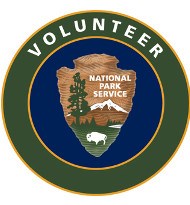 Every year, hundreds of thousands of dedicated individuals donate their time and energy in support of the National Park Service (NPS). The Volunteer-In-Parks (VIP) program started with just a few hundred volunteers in 1970 and has since grown to include more than 330,000 VIPs! These VIPs are working to help preserve and protect our natural and cultural heritage and whether they volunteer for a few hours on their weekend, stay on call to assist in emergencies, or work full-time as a campground host or park interpreter, these volunteers are an integral part of the NPS workforce!
Check below to see what volunteer positions are currently available. Volunteer positions are not limited to what you see below; if you would like to offer your skills and expertise in any way please contact us. We are happy to work with volunteers who feel they can help preserve and protect Devils Tower National Monument.Thank you for your service and for supporting your national parks!
To connect with other NPS volunteers, visit the NPS volunteer Facebook page.
About Volunteering at Devils Tower National Monument:
Anyone can be a volunteer including individuals, couples, families, students, and organized groups. Those under the age of 18 may volunteer with the official signed permission of a parent or guardian, which will be provided in the Volunteer Agreement Form. Orientation and position specific training will be provided to each new volunteer or group. VIP positions with public contact responsibilities will be provided with NPS Volunteer uniform shirts and a hat. VIP will be asked to provide brown/khaki pants or skirt to be worn with the uniform shirt.
Non-local volunteers who serve a minimum of 32 volunteer service hours a week may be provided a trailer pad or furnished apartment. This is dependent upon housing availability and will be specified in the job description.
To learn more about volunteering at Devils Tower and for detailed descriptions of our recurring volunteer positions, please contact us.
Internships
Each summer, Devils Tower National Monument recruits a limited number of full-time interns through the Student Conservation Association (SCA) and the Geoscientists-In-The-Park (GIP) program. These interns assist with vital work that ranges from bat research and plant studies to assisting park visitors and presenting interpretive programs. In return, interns receive valuable training and experience and have the opportunity to live and work in America's first national monument.
Current Volunteer Opportunities
Last updated: September 18, 2019