Webcam: Sled Dog Puppies
Welcome to the Denali Puppy Cam!
July 2022 update
The puppy cam is back. This year's litter was born on June 18, 2022 and the pups are beginning to explore their surroundings. Check back here frequently to watch them grow!
You can also follow the growth of the pups through "pupdates" on Facebook.
Meet the Pups: 2022 Denali Kennels Centennial Litter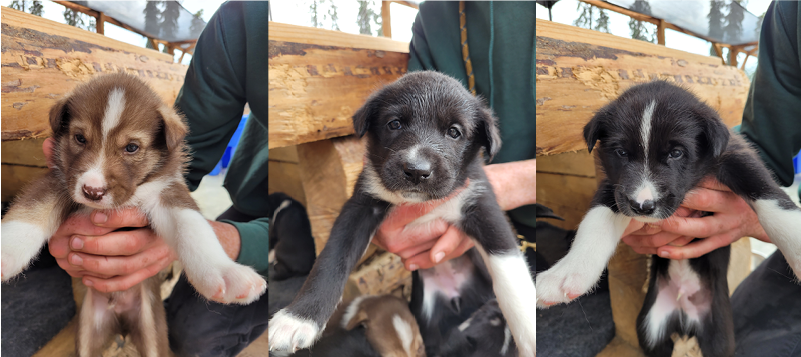 Left to right:
Bos'n (m), Skipper (f), Mike (m)
About the Names
In commemoration of our 100th year of operation, these puppies share their names with the first dogs acquired to patrol the park in 1922. The sire is our lead dog Steward, and the dame, Olive, comes from a well-respected partner kennel in Healy, Alaska. Arranged breedings and splitting litters with partners strengthens the health of our kennel's lineage, as well as the health of all freight-style Alaskan huskies.
8/16/22 update: All five members of the Centennial Litter continue to thrive! Two puppies (Dynamite and Rowdy), along with their mother Olive, have now returned to their home kennel as planned. The remaining three puppies will stay in Denali and continue on their path to becoming our next canine rangers.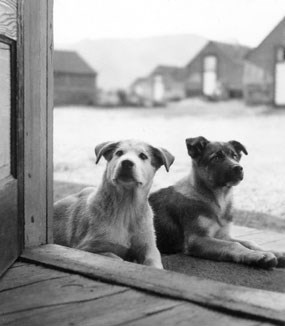 More Than Cute
Mushing is a cultural tradition across Alaska that dates back many thousands of years. It also provides the National Park Service the most effective available means to patrol vast areas of designated Wilderness during the long winter season.
Managers of the historic Denali sled dog kennels take great care in breeding for qualities suitable for the challenges and responsibilities of a Denali sled dog. Physical traits include long legs to break trail through deep snow, compact paws to resist build up of ice between toes, and sturdy coats and puffy tails to keep warm in the depths of sub-arctic winter. Character traits include tenacity, an unbridled love to pull and run as part of a team, and social skills that tolerate attention of many thousands of admirers to visit the kennels each summer.