Webcam: Sled Dog Puppies


Welcome to the Denali puppy-cam!
November, 2019 update
Now that days grow shorter and temperatures plummet, the camera is off-line for the season.

Our oldest pup, Jewel, was adopted into the Denali kennels from a kennel in Fairbanks with whom we have shared bloodlines and breedings with over the years. Jewel was born on May 24, 2019 in a litter of 6 pups and she is the one lucky pup who was picked to join us and become a canine ranger in the park for the next 9 years of her life.

Meanwhile, our dog Clove gave birth in October to a litter of pups. This year's litter was name by retired NPS rangers Roger and Pam Robinson after the "Little Switzerland" climbing area in the Alaska range. The pups are now 6 weeks old and they already feel like royalty!

You can follow their growth through our sled dog blog or through "pupdates" on Facebook.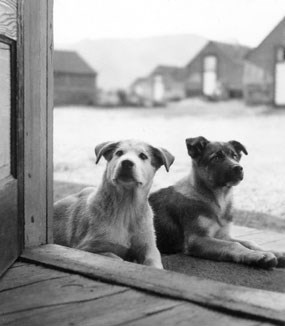 More Than Cute
Mushing is a cultural tradition across Alaska that dates back many thousands of years. It also provides the National Park Service the most effective available means to patrol vast areas of designated Wilderness during the long winter season.
Managers of the historic Denali sled dog kennels take great care in breeding for qualities suitable for the challenges and responsibilities of a Denali sled dog. Physical traits include long legs to break trail through deep snow, compact paws to resist build up of ice between toes, and sturdy coats and puffy tails to keep warm in the depths of sub-arctic winter. Character traits include tenacity, an unbridled love to pull and run as part of a team, and social skills that tolerate attention of many thousands of admirers to visit the kennels each summer.
Last updated: November 19, 2019