Webcam: Sled Dog Puppies

Welcome to the Denali puppy cam! The puppy-cam is offline, as of January, 2019. The litter of pups born in summer 2018 are old enough now to join the big dogs out on the trail, and live on their own individual dog houses, rather than in a communal pen.

Each year, we turn on the camera when that year's pups are able to walk and move about outside the doghouse. The exact date the camera goes online varies, depending on when the litter is born.

Please keep in mind that, when on, the puppy-cam does not provide a complete view of the entire double puppy pen. The pups or mom may move out of the camera range, water buckets, food dishes, and even kennels rangers may also be out of view even though they are right there in the pen. Not to worry, all of the pups and dogs are getting all the love and care they need and deserve every single day.

We encourage you to watch "The Puppy Paws" video series to learn more about how we raise and train our pups. This video series answers some commonly-asked questions, like why do we breed our own dogs instead of adopting, and how do we prepare the pups for the work they'll do once they mature. You can also read more about the parents of this litter on our blog.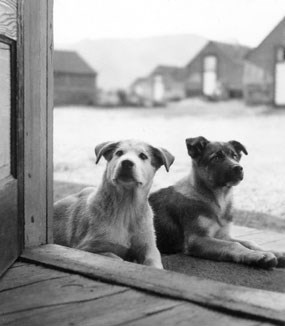 More Than Cute
Mushing is a cultural tradition across Alaska that dates back many thousands of years. It also provides the National Park Service the most effective available means to patrol vast areas of designated Wilderness during the long winter season.
Managers of the historic Denali sled dog kennels take great care in breeding for qualities suitable for the challenges and responsibilities of a Denali sled dog. Physical traits include long legs to break trail through deep snow, compact paws to resist build up of ice between toes, and sturdy coats and puffy tails to keep warm in the depths of sub-arctic winter. Character traits include tenacity, an unbridled love to pull and run as part of a team, and social skills that tolerate attention of many thousands of admirers to visit the kennels each summer.
Last updated: January 28, 2019