Videos highlight young people in Denali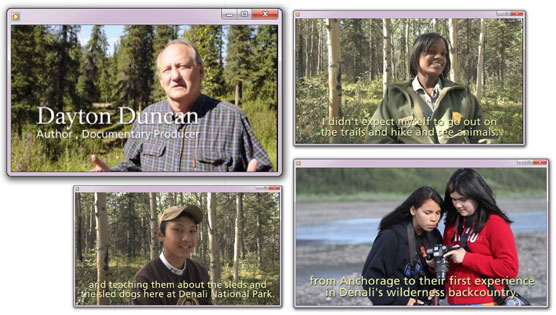 News Release Date:
November 10, 2010
Contact: Kris Fister, 907 683-9583
Three new online videos highlight
experiences of young people in Denali


The final installment in an online video trilogy about the experience of young people in national parks was posted this week on "Denali: New Expeditions," a podcast series available free on the park website, and iTunes.
In Park Champions, author and documentary producer Dayton Duncan encourages young people to experience and become champions for national parks. Photographed and produced in part by two college interns over two years, the project chronicles the first experiences of Alaska Native high school students from Anchorage in Denali's wilderness backcountry. (Open captions. Running Time 09:56)   
New Generations presents interviews with six young people – from hometowns as far away as Sylacagua, Alabama to as near as Healy, Alaska – about what it was like for them to work for the National Park Service in Denali for a summer. (Open Captions. Running Time 07:33)
One World, One Community culminates in a performance at the Denali Visitor Center in July by 50 members of the Chicago Children's Choir. Produced by Nathan Kostegian, SCA intern. (Running Time 02:16)
"The future of national parks is in the young people of America," Duncan said in an interview he recorded for the video. "When you're in a national park, you're in a sacred place, and you feel it. And it's almost impossible, I think, to walk away from that experience and not be moved by it, and not become a park champion, a park supporter and a park defender." 
Streaming versions of the three videos are embedded on the park website. 
Complete versions are also available for free download as Quicktime video files through the "Denali: New Expeditions" storefront in iTunes.
-- NPS --

Last updated: October 11, 2017