Snare Removed from Wolf in Denali National Park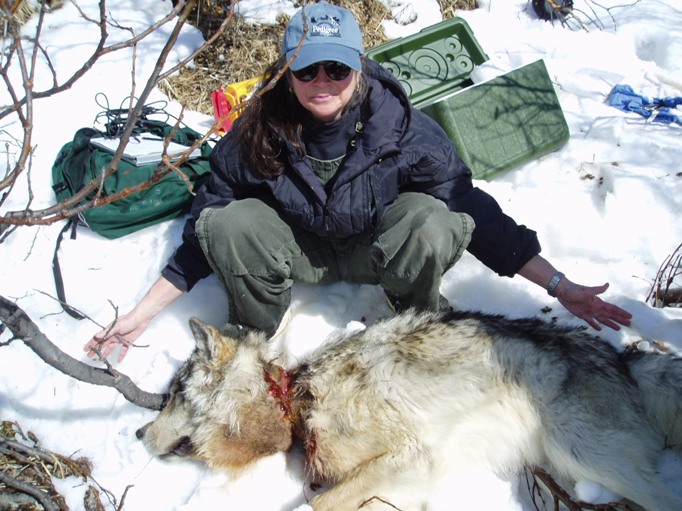 News Release Date:
May 5, 2008
Contact: Kris Fister, 907-683-9583
Due to the sharp eyes of a pilot working on park wildlife surveys, and a coating of new snow, Denali National Park and Preserve wildlife biologist Tom Meier and volunteer veterinarian Denise Albert were able to successfully remove a trapper's snare from around the neck of a large, grey, male wolf in the park on Friday, May 2.
The wolf and a smaller companion were seen by several National Park Service employees near the Savage River Campground on Thursday evening, and Meier arranged to have a helicopter, piloted by Troy Cambier of Fairbanks, available at the park the next day. The fresh snow overnight made it possible to find the wolves by their tracks, which were first spotted by Supercub pilot Dennis Miller, who provided the other aircraft used in the capture operation.
Dr. Albert had recently consulted with the park's biologists on possible treatment options if they were able to catch the wolf. They flew to where the fresh tracks had been spotted and were able to locate the wounded wolf on a ridge near the Savage River bridge. The animal was immobilized with a tranquilizer dart, and Albert cleaned the wound and administered antibiotics. The snare was deeply embedded in the wolf's neck, but the wound was not badly infected. Dr. Albert believes that the wolf is likely to survive its injuries. Afterwards the wolf rejoined the smaller wolf that it was traveling with, which may be its mate. The pair of wolves was seen along the park road on Saturday and Sunday, and the injured wolf seems to be recovering.
The National Park Service took this action as the injury to the wolf was not due to natural causes.
Park staffers had been attempting to locate and treat the animal since the injury was first reported in late February. There had been several sightings, but the animal would be gone by the time staff could get to the site.
-NPS-
Last updated: April 14, 2015