Lightning Ignites New Fires in Kantishna and near Wonder Lake in Denali National Park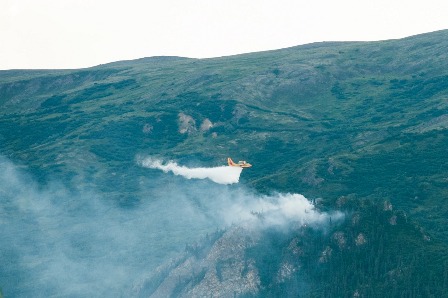 News Release Date:
June 26, 2013
Contact: Kris fister, (907) 683-9583
Lightning Ignites New Fires in Kantishna and near Wonder Lake in Denali National Park
DENALI PARK, Alaska: Three new wildfires were ignited in Denali National Park and Preserve when a storm cell moved through the western area of the park late Tuesday afternoon into the early evening. Fire managers immediately deployed resources to aggressively suppress two of the fire starts, as they were located near developed areas on the Denali Park Road. Four water scooping aircraft and one helicopter were used to drop water on the two fires, and nine BLM and USFS smokejumpers were deployed in two loads. Both fires were secured last night, and the smokejumpers will continue mopping up and securing the fire perimeters today. The Xerxes Fire is approximately 1.5 miles east of Wonder Lake and less than ¼ mile south of the Denali Park Road, and is estimated to be about 2 acres. The Brooker Mountain Fire in Kantishna is located approximately 3 miles southwest of Camp Denali and 2.5 miles south of the Kantishna airstrip. It was estimated to be approximately .5 acre last night.
The Sandless Lake Fire near the northern park boundary was also discovered last night. It is estimated to be about 3 acres in size, burning between two lakes. It is not threatening any critical resources, and will be monitored.
The Beaver Log Lakes Fire in Denali National Preserve was remapped and is now 26,555 acres (most acreage outside of the Preserve). It is moving southwest toward Lake Minchumina, and two loads of smokejumpers were deployed yesterday to begin establishing structure protection. Additional resources are being ordered.
The Moving River Fire approximately 30 miles northwest of Kantishna was also recently mapped, and is now almost 5,000 acres. The smokejumpers completed the burnout at the historic Roosevelt cabin site yesterday, and will continue to monitor the site today.
The Bear Creek Fire has not been recently mapped, and is still estimated to be approximately 60 acres in size. It is located fifteen miles northwest of Kantishna and three miles west of Moose Creek. The area previously burned in 1993, and the fire is being monitored.
Fire danger for the park and surrounding area is currently extreme due to the higher than normal temperatures, winds, and very dry vegetation and other natural fuels. The National Park Service is urging park visitors to be extremely cautious with anything that could start a wildfire. Fires are not allowed in the park's wilderness areas and fireworks are prohibited. Everyone has a hand in a safe wildfire season.
Currently there are 94 active wildfires in the state. Where there is fire, there is smoke. Due to the current and expected statewide fire activity, anticipate the possibility of varying levels of smoke. Keep informed of local fire information and air quality reports. Wildfire smoke information is available at http://dec.alaska.gov/air/smokemain.htm. Visit http://fire.ak.blm.gov for statewide information and a map of the active fires.
Visit https://www.nps.gov/dena/parkmgmt/currentfireinfo.htm for current information about wildfires in Denali National Park and Preserve.
Last updated: April 14, 2015