Special Mountaineering Use Fee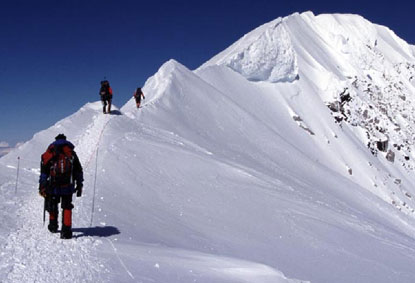 News Release Date:
October 31, 2010
Contact: Kris Fister, 907 683-9583
The National Park Service (NPS) is examining approaches to recover more of the cost of the mountaineering program in Denali National Park and Preserve. Currently, each climber of Mt. McKinley and Mt. Foraker pays a cost recovery special mountaineering use fee of $200. Despite an increase in the fee from $150 to $200 in 2005, current fee revenue only covers 17% of the cost of this specialized program; the fee initially covered approximately 30% of the cost. Climber numbers since 2002 have remained essentially flat, as has NPS staffing. Excluding costs of the high altitude helicopter portion of the program, operational expenses have gone up significantly, due mainly to inflation.

The cost recovery program is authorized by Federal statute. Income from the cost recovery fee offsets some of the cost of the mountaineering program. Costs recovered by the fee fund preventative search and rescue (PSAR) education, training for rescue personnel, positioning of patrol/rescue personnel (including volunteers) at critical high altitude locations on the mountain, the CMC (human waste) program and administrative support.

The cost recovery fee was implemented in 1995. The number of fatalities and major injuries has decreased significantly since then, which is directly attributable to the increased educational and PSAR efforts made possible through the cost recovery program. The fee has also enabled the park to start and sustain effective human waste and garbage management programs on Mt. McKinley.

McKinley/Foraker climbers make up less than ½ of 1 percent of the 378,000 people who visited the park in 2010. Denali will expend approximately $1,200 in direct support of each permitted climber in 2011. In contrast the average cost for all other visitors is expected to be about $37. In recent years, the park has diverted funds from other critical park programs in order to fully fund the mountaineering program. This has negatively impacted funding available for programs such as interpretation, wildlife protection, resource management, and maintenance. "The park budget can no longer support the specialized costs of the mountaineering program without impacting other programs that protect park resources and provide services to far more visitors", said Paul Anderson, Denali National Park Superintendent.

Through the public involvement process, the park is seeking input and ideas about two key questions: 1) Is the current mountaineering program the most cost effective, efficient and safe program we can devise?; and 2) How much of the cost should be recovered from users, and what options are there for how those costs can be distributed?

Comments from the public will be accepted between November 1, 2010 and January 31, 2011. Public Comments may be submitted via email to: DENA_mountainfeecomments@nps.gov or faxed to (907) 683-9612. Written comments may also be submitted by mail to: Superintendent, Denali National Park and Preserve, P.O. Box 9, Denali Park, AK 99755.

Public meetings to hear comments on the mountaineering and cost recovery program will take place in Talkeetna and Anchorage, Alaska in December and in Seattle and Denver early in January 2011. Dates and specific meeting locations will be announced in the near future.

For additional information on the mountaineering program or cost recovery special use fee visit the park website at www.nps.gov/dena/. If you have questions about the fee you may contact Chief Park Ranger Peter Armington at (907) 683-9521. Media inquiries should be directed to Public Affairs Officer Kris Fister at (907) 683-9583.

Last updated: April 14, 2015