Anchorage Physician Recognized by National Park Service for Outstanding Volunteer Service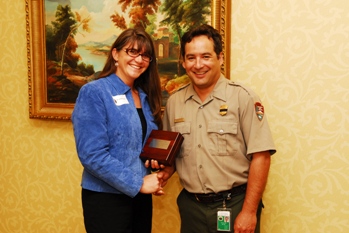 News Release Date:
May 13, 2008
Contact: Maureen McLaughlin, (907) 733-9103
Contact: Kris Fister, (907) 683-9583
Dr. Jennifer Dow, an emergency room physician at Alaska Regional Hospital, was presented with a George B. Hartzog, Jr. Award for Outstanding Volunteer Service at a ceremony that took place in Washington, D.C. on Thursday, May 8.
The George B. Hartzog, Jr. Awards are named for the former National Park Service Director who established the Volunteer-in-Parks (VIP) Program in 1970. The awards are presented annually by the National Park Service, the National Park Foundation, and Take Pride in America®. In addition to Dr. Dow, who received the highest honor in the Individual Volunteer category, the award for Outstanding Volunteer Service for a Group was given to the Flight 93 Volunteer Ambassadors and Mount Rainier National Park received the award for Outstanding Volunteer Service by a Park VIP Program.
Dr. Dow has long been an indispensible asset to the National Park Service (NPS), simultaneously serving as volunteer medical director for three of Alaska's national parks. She began her NPS volunteer services in 2000 with Denali National Park and Preserve's mountaineering operations, and then expanded her medical oversight to include the emergency medical services (EMS) at Wrangell-St. Elias and Katmai National Parks in 2003 and 2004, respectively. Dr. Dow's personal devotion to the field of outdoor emergency medicine and to the mission of the National Park Service has helped save lives, optimize the medical care received by park visitors, and has significantly enhanced the medical skills and professional quality of NPS emergency response.
In Denali National Park and Preserve alone, Dr. Dow has logged over 1,600 hours of volunteer work since 2000, including:
Field time on Denali mountaineering patrols including multi-week stints at the 7,200-foot Kahiltna Basecamp, the 14,200-foot ranger camp, and the 17,200-foot high camp. 
Providing medical guidance via telephone and radio during rescue emergencies;
Conducting pre-season medical training;
Revising the park's medical protocols and call-out procedures;
Conducting debriefings of all medical incidents and providing constructive input for future employee development; 
Oversight of prescription pharmaceuticals dispensed by trained ranger staff to park visitors; and
Participation in training exercises such as helicopter shorthaul, ice climbing, crevasse rescue, glacier travel and high-angle rope rescue.
According to South District Ranger Daryl Miller, "As an avid skier and high altitude mountaineer, few physicians in the world have the breadth of experience that Dr. Dow has in providing outdoor emergency medical care in extreme Alaskan conditions." 
The George B. Hartzog, Jr. Award is the third prestigious honor bestowed on Dr. Dow this year for her extensive volunteer efforts in the field of emergency medicine. In November 2007, the Lieutenant Governor of Alaska presented Dr. Dow with the "Memorial Longenbaugh Award", a statewide accolade created in honor of Dr. George Longenbaugh, a pioneer in Alaska emergency medicine. In January 2008, the Alaska Region of the National Park Service named Dr. Dow as the regional Outstanding Volunteer Service Award winner; recipients from the seven regions throughout the United States were then nominated for the national prize, the George B. Hartzog, Jr. Award.
Dr. Dow returns to Denali National Park and Preserve on May 18 to begin a 30-day mountaineering patrol.
Last updated: April 14, 2015