Lightning Sparks Wildfire in Western Denali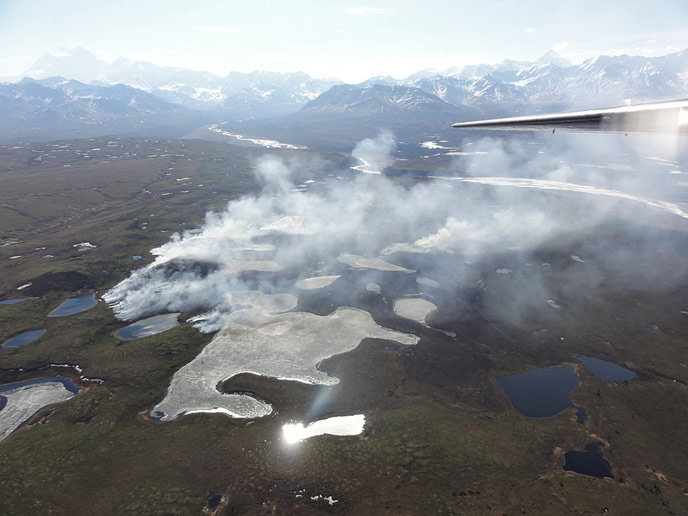 News Release Date:
June 2, 2013
Contact: Morgan Warthin, 907-644-3418
A lightning ignited wildfire was discovered in the far western portion of Denali National Park and Preserve on Saturday, June 1. As of June 2, the North Swift Fork fire was 920 acres, 30 percent active and burning in tussock and brush. A small portion of the fire was active in a spruce forest. The fire is burning in a very remote area more than 50 miles southwest of Wonder Lake and will be allowed to take its natural course. Action will be taken if the fire threatens values at risk, which include structures and natural or cultural sites. None are threatened at this time. The Alaska Fire Service will monitor the fire, documenting fire behavior and growth. Denali fire staff and the Alaska Fire Service manage fires as an effective team.
Naturally-caused wildfires in Denali's far west are a common occurrence. Check out a
map of the park's fire history
.
The North Swift Fork fire is unique for several reasons. The fire started early in the season and is a pre-green up fire. Snow just recently melted in the area, although a few patches remain. Ponds are still covered in ice, and vegetation is not green yet. Fires of this type are relatively rare in Denali. Snowmelt also occurred later than usual this year due to cold temperatures that lingered until mid-May. Several days with high temperatures in the 60s to 70s Fahrenheit initiated a rapid breakup which was followed by early season lightning.
Get
current fire information, a map
and
photos
.
Last updated: April 14, 2015