Denali National Park and Preserve Fire Update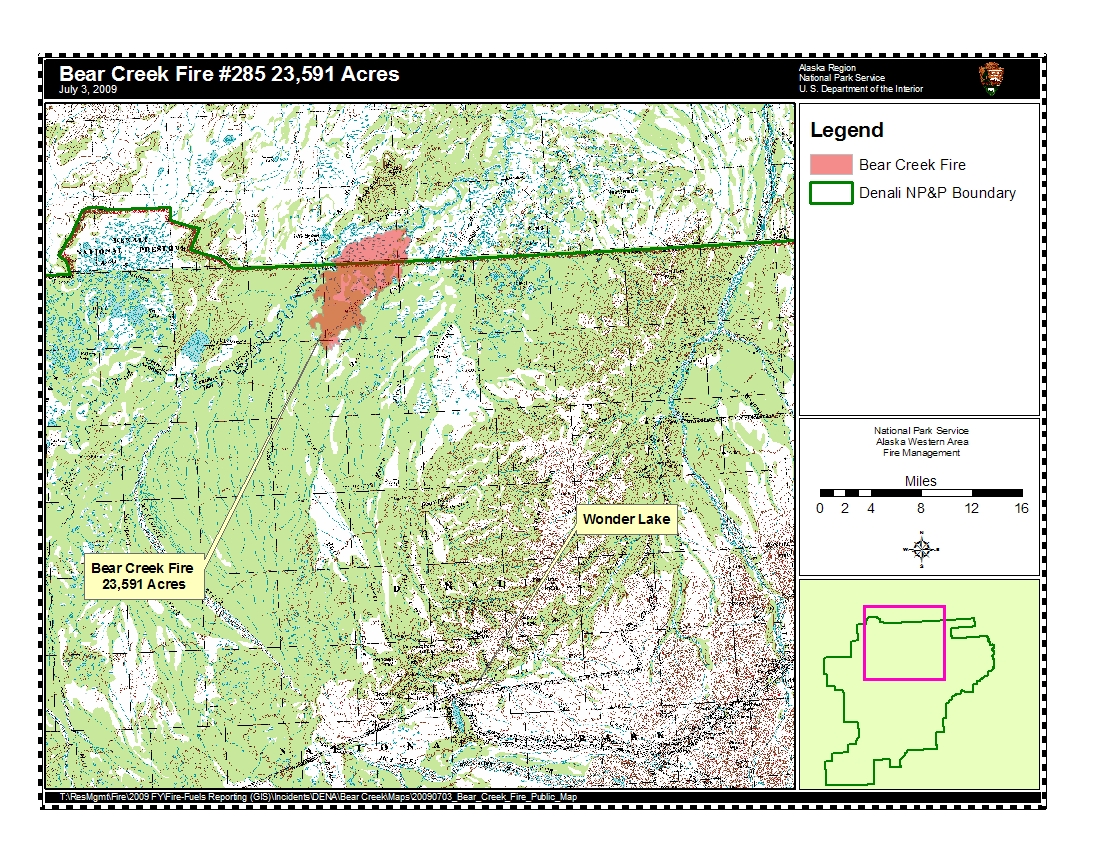 News Release Date:
July 5, 2009
Contact: Kris Fister, 907-683-9583
Fire activity on fires burning in or near Denali National Park and Preserve has increased due to the recent warm, dry weather. Wind direction shifts have moved smoke into the park, creating hazy conditions. The Bear Creek Fire, located approximately 25 miles north of Kantishna along Bear Creek is the only one burning in the park. It was mapped at 23,591 acres on July 3, and it is moving moderately to the south due to the north winds. Alaska Fire Service smokejumpers were flown in on Saturday to provide structural protection to the Roosevelt Cabin, a historic cabin located approximately three miles from the southern end of the fire. Three NPS fire management staff are being flown to the cabin site today to continue structural protection, along with two smokejumpers. There is no immediate threat to any other park structures, or to park developed areas. Fire activity is monitored daily and mapped from the air as needed and as smoke conditions allow.
One of the other large fires burning in the area is the Zitziana Fire, located north of Wein Lake, approximately 25 miles north of the park boundary. It grew rapidly over the weekend, doubling in size. It is currently mapped at 8,800 acres. A load of smokejumpers was flown to the site yesterday to assess structures and begin structural protection.
Additional information, including maps, for these and other Alaska fires can be found on the Alaska Interagency Coordination Center website at http://fire.ak.blm.gov.
The Alaska Department of Environmental Conservation issued an air quality advisory for the area on Saturday, July 4. While air quality is forecast to be good to moderate, some areas closest to the fires could experience periods of unhealthy air quality. When the air quality is deemed unhealthy, people with respiratory or heart disease, the elderly, and children should avoid prolonged exertion. All others should limit prolonged exertion. Information on wildfire smoke can be found at http://www.dec.state.ak.us/air/smokemain.htm.
These two fires were started by lightning in mid-June. They are burning in an area managed under the limited management option. Suppression actions are taken when necessary to protect sites such as cabins or historic resources, or to keep a fire within the boundary of a management option.
Updated park information is posted on the web at www.nps.gov/dena. Information can also be obtained by calling (907) 683-2294 from 8:00 a.m. – 4:30 p.m. daily.
- NPS -
Last updated: April 14, 2015