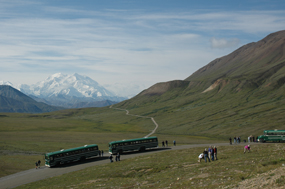 The road study was completed in 2012 with the approval of the Denali Park Road 2012 Vehicle Management Plan. This plan marks the start of a new era in the management of the park road.

Study History

In 2006, Denali began a multidisciplinary study designed to optimize visitor experience along the park road while protecting wildlife. Since 1972, traffic on the park road has been limited mostly to buses, and since 1986, a use limit of 10,512 vehicle trips annually has been in effect. Faced with increasing visitation and pressure to defend or change the limits to road traffic, park managers have designed a study to develop a greater understanding of the impacts of traffic volume and traffic patterns on the physical, biological, and social environment of the park. The study was comprised of three primary components and took place from 2006 to 2012.
Wildlife Movement
To examine potential impacts of Park Road traffic on wildlife movements and distribution, researchers deployed GPS collars on 20 Dall's sheep and 20 grizzly bears within the road corridor. Location information and movement paths of collared animals were modeled with habitat and traffic data to determine possible relationships between vehicles on the Park Road and wildlife behavior.
Viewable in Google Earth, data showing the movements of three of the collared bears from the summer of 2006 can be found below. Also available are the movements of two groups of Dall sheep in the summer of 2007. Download the files and open them in Google Earth.
Displaying thousands of points, the data demonstrate what parts of the park these animals frequent, and when.

The heat map below demonstrates the three bears (#s 573, 576 and 586) tracked in summer 2006. The fainter, bluer colors indicate areas infrequently visited by the bears, while the yellow and red (warmer) areas indicate areas where those bears spent more time.