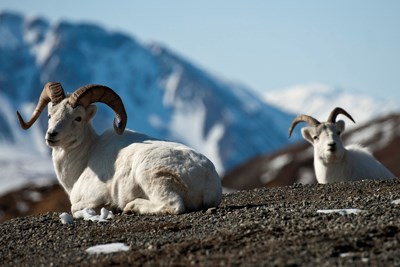 Dall sheep are prevalent throughout the high mountains within the eastern and western-most portions of the park. They use the ridges and steep slopes for feeding and resting, and the rocks and crags to elude predators. The population within the original park boundary is of great interest to wildlife managers because it is one of the few populations in North America that is not currently hunted and still shares its range with a natural complement of large predators.

Male Dall sheep are called rams and are distinguished from females, called ewes, by their massive curling horns. Adult rams live in bands that seldom associate with ewe groups except during the mating season, or rut, in late November and early December. The head butting that rams are known for is the way males establish their reproductive rank. These clashes occur intermittently throughout the year but are most dramatic during the rut when rams compete with each other to mate with ewes.
Rams
Rams resemble ewes until they are about 3 years old. After that, continued horn growth makes them easily distinguishable. Their horns grow steadily during spring, summer, and early fall. In late fall or winter horn growth slows and eventually ceases. This is probably a result of changes in body chemistry during the rut. This pattern of horn growth results in rings called annuli that are spaced along the length of the horn. A sheep's age can be accurately determined by counting these annuli. Researchers have recorded rams as old as 16 years and ewes as old as 19 years. More typically, a 12-year-old sheep is considered very old. As rams mature, their horns form a circle when seen from the side. Ram horns reach half a circle in about two or three years, three-quarters of a circle in four to five years, and a full circle or "curl" in seven to eight years. Dall rams normally do not breed successfully until they approach dominance rank (at full curl age and size).