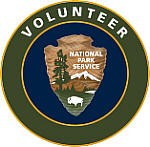 The volunteer program at Denali
Each year, volunteers contribute more than 60,000 hours to Denali National Park and Preserve. Retired couples, individuals, school groups, scouts, clubs and organizations - people just like you - donate their time and efforts to provide essential services at Denali's visitor centers, offices, kennel operations, campgrounds and even on the majestic slopes of North America's highest mountain. Our volunteers also contribute long hours constructing trails, eradicating invasive plants, gathering native seeds and assisting park researchers with a variety of projects.

More than 500 people annually make the time to give something back to this American treasure in Alaska. Depending on the opportunity, volunteers may donate several months at a time or perhaps a few hours. If this sounds like something you may be interested in, please read further.

During the summer months, housing within the park is limited. We have dedicated trailer pads with hook-ups in the headquarters area, and one trailer pad at Wonder Lake Campground.

If experiencing Denali in the winter interests you, we have lots of housing and projects to keep a person busy. The "off" season is a great time for us to organize and prepare for the busy summer.