The Backcountry Information Center (BIC) is officially open for the summer and we're ready for another busy season. During the winter we close the BIC and move operations into the Murie Science and Learning Center, so our office is kind of a wilderness of its own right now as we move back into our cozy little trailer.
The park is completely open (though
the road is not fully open
, more on that later) and it is a great time to explore the backcountry. Rivers are mostly melted out, but shelf ice is still present in some areas. Most rivers south of the road are crossable, it's just a matter of finding sturdy snow bridges or safe spots to transition from shelf ice to gravel bar. The days are quickly getting longer, with twilight lasting until well after midnight.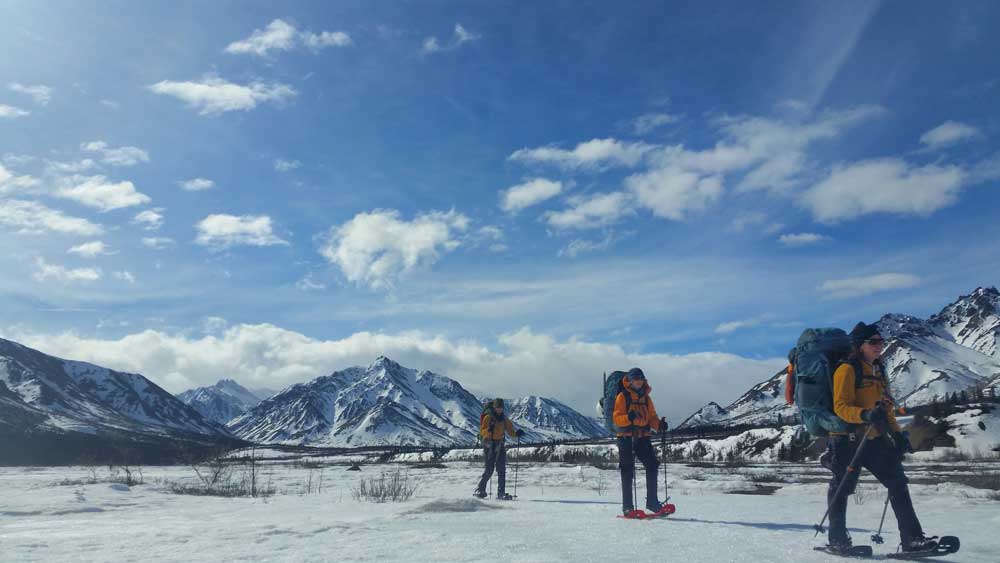 NPS Photo.Three rangers snowshoeing in the backcountry on May 4th, 2017
If you're planning a trip into the Denali backcountry this year, be sure to keep in mind the dates that the road opens to different parts of the park. Units are open for backcountry travel all year, but it is difficult to get farther west until the road is open and the busses are running.
May 15: Road is open for private vehicles to Teklanika River. No transit bus.
May 20: Road closes to private vehicles past Savage River (Mile 15). Transit bus runs to Toklat River (Mile 53).
June 1: Transit bus service runs to Eielson Visitor Center (Mile 66).
June 8: Transit bus service runs to the end of the road, at Wonder Lake and Kantishna (Miles 85 & 92).
If you have any questions about backcountry travel, check out the
steps to planning a backpacking trip in Denali
, or call the Backcountry Information Center at 907-683-9590 (9 am—6 pm daily). We hope you have an opportunity to get out and explore the vast Denali Wilderness this season. Enjoy your park!