| | | |
| --- | --- | --- |
| TODAY'S STATS |     Denali     | Mt. Foraker |
| Registered Climbers | 1,170 | 12 |
| Climbers Currently On Mountain | 564 | 0 |
| Completed Climbs | 171 | 11 |
| Number of Summits | 39 | 0 |
| Summit Percentage | 23% | 0% |
The Walter Harper Talkeetna Ranger Station also maintains a daily automated statistics phone line, so if this blog is lagging behind and you need up-to-date registration numbers, call (907) 733-9127.
Mountain Weather

Quick rundown:  Heavy clouds and snow at 7K, but winds are calm.  As of mid-morning today, its a little nicer higher on the mountain, partly cloudy skies (most clouds are sitting to the south) and winds are calm.

Weather station telemetry data from 7K and 14K are transmitted hourly to the MesoWest website, including temperatures, wind speed, wind direction, snowfall, and solar radiation.  MountainWeather.com compiles a Denali Weather page, complete with links to the MesoWest data, the NWS Denali Climbing Forecasts, as well as links to FAA webcams. 

Click here for the National Weather Service Denali Climbing Forecast

Click here for the FAA webcam on the Kahiltna Glacier. 

 
Ranger Update
NPS 14K Patrol #2
  (Coady)  Patrol #2 is at basecamp now, waiting to fly out to the lush green pastures of Talkeetna for a well-deserved ice cream cone.
NPS 14K Patrol #3 -
(Erickson/Baldwin) The past 48 hours have been gorgeous from 14K on up to the summit, with reports of 100+ well-prepared climbers safely reaching the summit without incident or illness.  Knock on wood.  The patrol is still split between high camp and 14 camp.
NPS 14K Patrol #4
 - (Weber)  Patrol #4 is at 11 camp again tonight, likely headed to 14K when weather allows. Rumor has it they daytripped to the top of Kahiltna Dome yesterday. 
NPS 14K Patrol #5
- (Gault) Patrol #5 is steadily and efficiently making their way up the mountain, camping at 9,800 feet last night and headed to 11K today.
NPS 7K Patrol #4
 - (Reichert) As reported above, its been snowy last night and today at 7K, the patrol is hanging in camp today.
NPS Rangers at 300 feet
, i.e. the Talkeetna Ranger Station, remain busy with chock-a-block climber orientations and check-backs.  South District law enforcement rangers were busy this week: a couple climbers received citations for improper pooping in the rocks at high camp; a drone was confiscated at 14K, also resulting in a citation; and upon investigation, rangers denied access to an illegally guided team.  Only the
seven guide services listed here
are authorized to lead commercial expeditions on Denali!  
Denali Rescue Volunteers

As readers of this blog can easily observe, Denali 's mountaineering volunteers -- or "Volunteers-in-Parks (VIP's)" as they are known in the NPS -- are critical to almost all aspects of the park's mountain operations – assisting with everything from shoveling out a helipad to technical rope rescue work, and from repairing camp heaters to providing life-saving emergency medical care.  Each season, 30 to 40 VIP's devote up to 4+ weeks of their summer to work alongside NPS rangers on Denali.  These volunteers come from many walks of life, including physicians, firemen, ski patrollers, electricians, paramedics, and teachers.  All with experience in glacier travel, mountaineering, and some level of medical or rescue knowledge.   

Learn more about the mission and the faces behind Denali Rescue Volunteers (DRV), our non-profit partner run by Denali mountaineering volunteers for Denali mountaineering volunteers.  DRV fundraising helps directly offset expenses for the park's mountaineering program while enhancing the volunteer experience.  Thank you Denali Rescue Volunteers!  Be sure to catch their amazing images from volunteers and staff on Facebook and Instagram!

Photo of the Day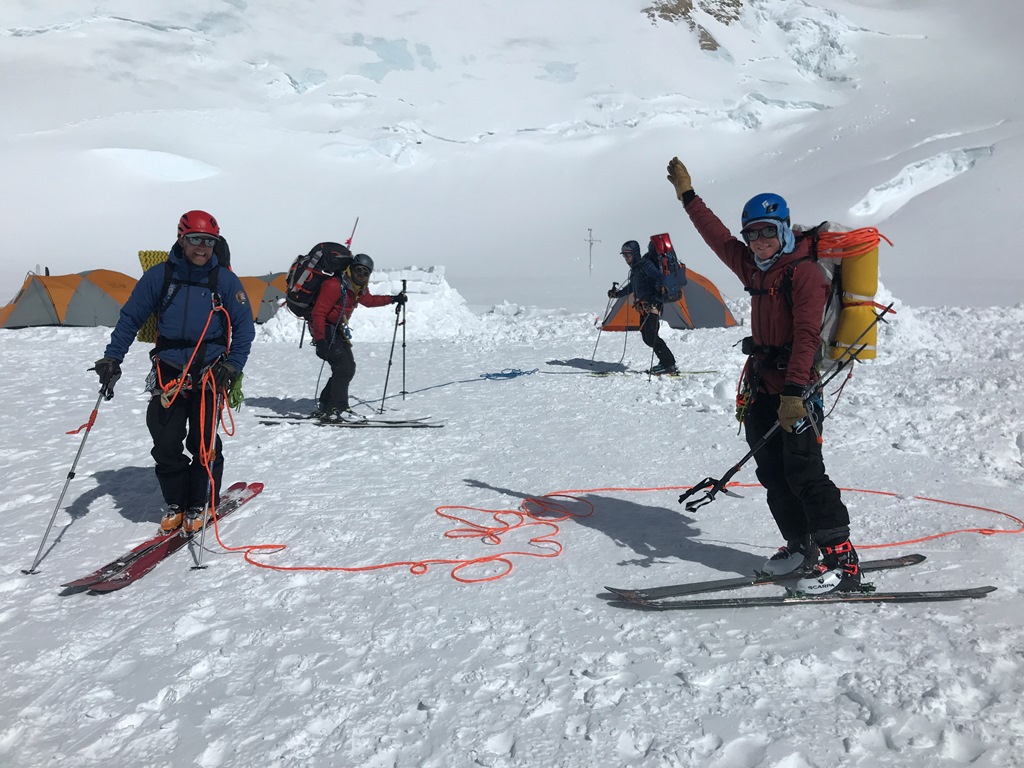 NPS Patrol #1 ranger and volunteers enjoying a sunny day at 14,200-camp.  (The metal 'cross' in the distance is the 14K weather station!)  NPS Photo / Melis Coady