| | | |
| --- | --- | --- |
| TODAY'S STATS |     Denali     | Mt. Foraker |
| Registered Climbers | 1,094 | 9 |
| Climbers Currently On Mountain | 388 | 0 |
| Completed Climbs | 584 | 7 |
| Number of Summits | 307 | 0 |
| Summit Percentage | 53% | 0% |
The Walter Harper Talkeetna Ranger Station also maintains a daily automated statistics phone line, so if this blog is lagging behind and you need up-to-date registration numbers, call (907) 733-9127.
Mountain Weather

Click here for today's National Weather Service Denali Climbing Forecast.  

And here for the Kahiltna webcam:  https://avcams.faa.gov/  

7,200 camp:  A lenticular cloud is sitting atop Mount Foraker, scattered clouds elsewhere. Wind was 3 mph out of the northeast, gusts to 13 out of the east.  No snow overnight.
In the last 12 hours:
Current temp (8 am): -5 C (23 F)
High temp:  -5 C  (23 F)
Low temp: -8 C  (18 F)
14,200 camp:  Lenticulars visible over Denali and Foraker, with blowing snow on all upper ridges. At 14K, the wind was 1 mph out the northeast, but gusts were blowing out the northeast at 46 mph.
In the last 12 hours:
Current temp (8 am): -14 C (7 F)
High temp: -13 C  (9 F)
Low temp: -15 C  (5 F)
 
Ranger Update
 
NPS Denali (14K) Patrol #5:
  (Rgr Weber, VIP Treat, VIP Malone, VIP Scheele, VIP Byers, PJ Kirby)  Dave estimates 50 to 60 people moved up from 11K to 14K yesterday, with consistent reports of chest deep snow. In addition to the high winds on the upper mountain today, the forecast for the weekend looks rough.  A few teams are hoping to sneak up to high camp and the summit before the big storm hits in a few days. 
NPS Denali (14K) Patrol #6:
 (Rgr Coady, VIP Atkins, VIP Atkins, VIP Nissenbaum, VIP Senden) Melis and crew woke up at Basecamp this morning after a day or two of crevasse rescue and basecamp duties. They move up to 7.8K camp tonight.    
NPS Basecamp (7K) Patrol #5:
  (Rgr Westman, VIP Goss) Mark Westman and Amanda Goss were delayed a day or two getting into Basecamp, but a break in the weather gave them a window in this morning.  
For anyone in Talkeetna on Thursday, June 14:  The Walter Harper Talkeetna Ranger Station will host a talk by Mount Hunter ice core researcher Dominic Winski who recently finished his seasonal ice core field work in the Alaska Range.  Dominic will be presenting some of their research findings in a presentation on June 14 at 5:30 p.m., with Q & A to follow!
Route Conditions
 
Its gotten cold again, combined with some deep snow during the recent storm. So a return to 'early season' snow pack and decent travel conditions. Avalanche potential remains elevated following continued high winds on the upper half of the mountain.  
Presenting....Lisa's Peak and the 2018 Denali Pro Pin

The Mislow-Swanson Denali Pro Award program began in 1998 as a partnership between the National Park Service (NPS) and climbing equipment manufacturer Pigeon Mountain Industries (PMI). The "Pro Pin," as it is commonly referred to, honors members of the Denali climbing community who exhibit the highest standards in the sport for safety, self-sufficiency, Leave No Trace ethics, and assisting fellow mountaineers. Throughout each climbing season, Denali mountaineering rangers recognize climbers with a Denali Pro lapel pin for exemplary expedition behavior, such as protecting the mountain environment, assisting fellow climbers, and using good judgment to limit or eliminate injury.
There are many climbers each year that exhibit the characteristics that the rangers are looking to recognize, and at the end of the year one individual, or a climbing team, is chosen as standing out even among the Pro Pin recipients.
In addition to recognizing climbers, the actual pin itself features a different mountain or route each year. This year, the featured peak is Peak 12,200, which is the first major high point on the South Buttress of Denali.  Peak 12,200, however is more significant than just a bump on a ridge. For some time now, Peak 12,200 has been referred to as Lisa's Peak, which is one of many unofficial names of points surrounding Kahiltna Basecamp.  Lisa's Peak is named for Lisa Roderick, who has been the Basecamp manager for almost 20 years, and is a fixture on the Kahiltna during the climbing season. Mount Frances, the 10,450' peak just to the north of Basecamp is named for Frances Randall, who was the first Basecamp manager.  Annie's Ridge is a dramatic ridgeline directly south of Basecamp that runs parallel to the landing strip, was named for Annie Duquette, the Basecamp manager who preceded Lisa. The view north from Basecamp is that of Denali, perfectly framed between Mt. Frances on the left and Lisa's Peak on the right.     
In 2015, Lisa Roderick was awarded the Mislow-Swanson Denali Pro Award for her many years of hard work at Basecamp. In addition to honoring Lisa, the 2018 Pro Pin recognizes an unofficial name that climbers have been using for years, but does not show up on maps or official records. You can read more about the history and past annual winners of the Mislow-Swanson Denali Pro Award at: https://www.nps.gov/dena/planyourvisit/denalipro.htm
(~Ranger Frank Preston)

Photo of the Day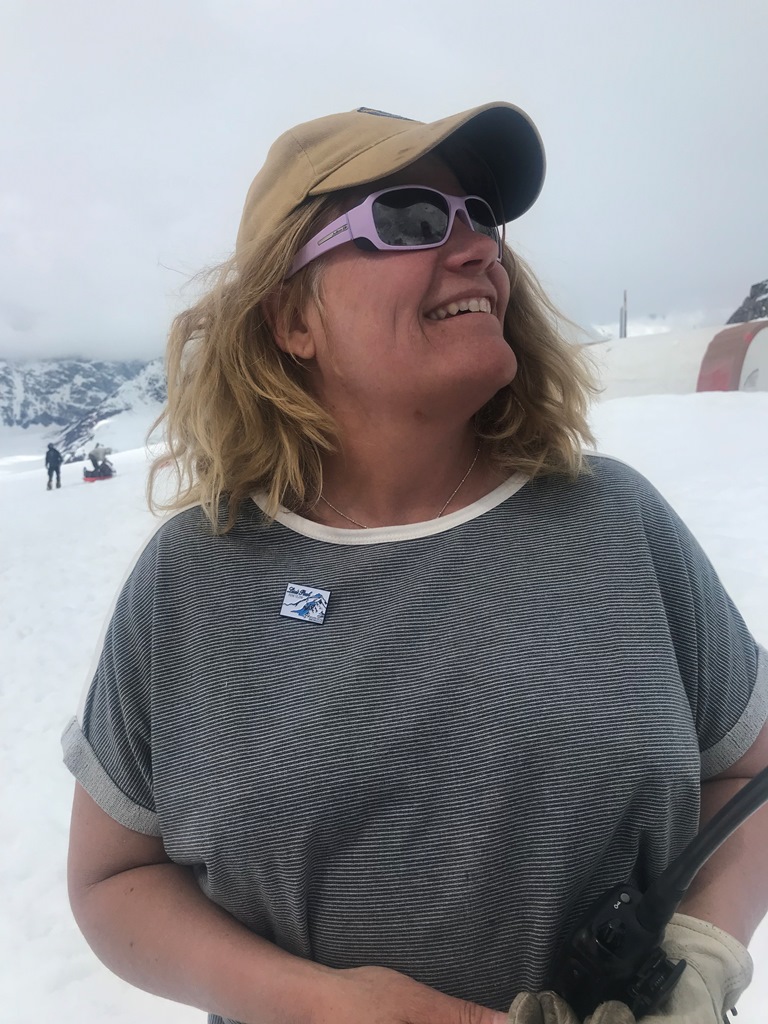 TAT/K2 Basecamp Manager Lisa Roderick wears her 2018 Denali Pro Pin with pride...and even a few tears in her eyes.  Before a small crowd of climbers, pilots, and rangers last week at Basecamp, Lisa was presented with her Pro Pin by South District Ranger Tucker Chenoweth.  (NPS Photo)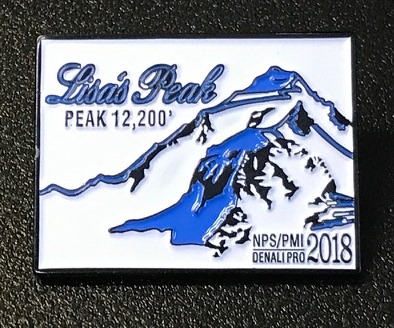 Thank you to Pigeon Mountain Industries (PMI) for ongoing support of the Mislow-Swanson Denali Pro program and for producing the Pro Pins for the last 20 years!  And more thanks to 2018 pin designer Ranger Frank Preston.  (NPS Photo)