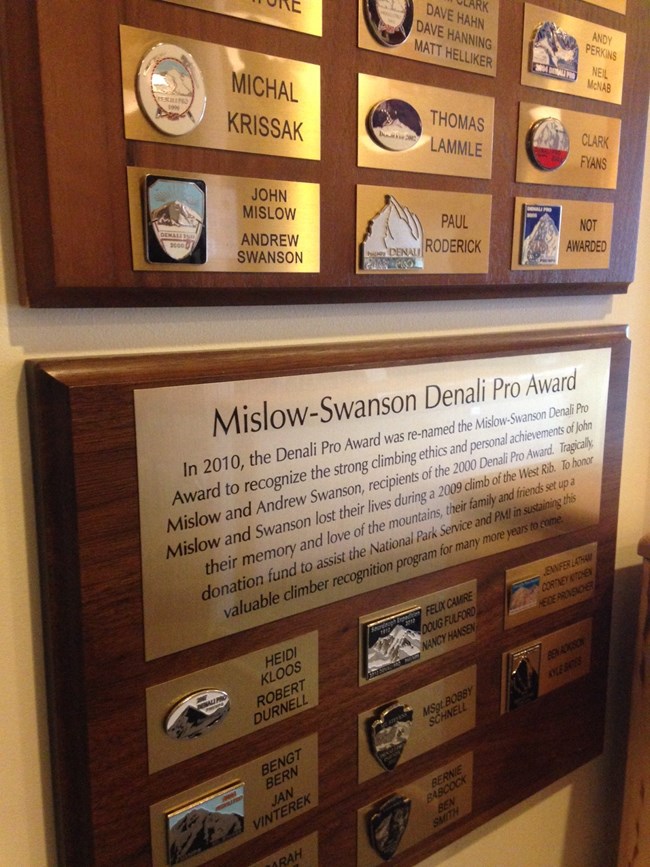 The Mislow-Swanson Denali Pro Award program began in 1998 as a partnership between the National Park Service (NPS) and climbing equipment manufacturer Pigeon Mountain Industries (PMI).

The program honors members of the Denali climbing community who exhibit the highest standards in the sport for safety, self-sufficiency, Leave No Trace ethics, and assisting fellow mountaineers. Throughout each climbing season, Denali mountaineering rangers recognize climbers with a Denali Pro lapel pin for exemplary expedition behavior, such as protecting the mountain environment, assisting fellow climbers, and using good judgment to limit or eliminate injury.

At the end of each season, mountaineering rangers collectively select a Mislow-Swanson Denali Pro Award winner from the pin recipients. The name of the annual winner, or winners in the event a team is selected, is added to the award plaque on display near the front desk of the Walter Harper Talkeetna Ranger Station.
Originally known as the Denali Pro Award, the name of the recognition program now honors the memory of mountaineers John Mislow and Andrew Swanson won the award for exemplary climbing ethics during the 2000 climbing season. The two men tragically died in a climbing fall on the West Rib in 2009.

The Mislow and Swanson families worked with Denali National Park to create a special donation account to honor the men and to ensure the continuation of highly valued program far into the future.