| | | |
| --- | --- | --- |
| TODAY'S STATS |     Denali     | Mt. Foraker |
| Registered Climbers | 1,202 | 17 |
| Climbers Currently On Mountain | 497 | 6 |
| Completed Climbs | 513 | 11 |
| Number of Summits | 232 | 0 |
| Summit Percentage | 45% | 0% |
The Walter Harper Talkeetna Ranger Station also maintains a daily automated statistics phone line, so if this blog is lagging behind and you need up-to-date registration numbers, call (907) 733-9127.
Mountain Weather

Quick rundown:  Beautiful, bluebired morning!  All up and down the mountain - clear, calm. 

Weather station telemetry data from 7K and 14K are transmitted hourly to the MesoWest website, including temperatures, wind speed, wind direction, snowfall, and solar radiation.  MountainWeather.com compiles a Denali Weather page, complete with links to the MesoWest data, the NWS Denali Climbing Forecasts, as well as links to FAA webcams. 

Click here for the National Weather Service Denali Climbing Forecast

Click here for the FAA webcam on the Kahiltna Glacier. 
 
Route Conditions

Frank Preston, who just flew off a basecamp patrol an hour ago, reports the lower glacier is still in FANTASTIC condition.  At least before 9 am.  Warm mid-day temps are more conducive to napping than skiing, but overnight and early morning travel is perfect.  On his way out, helo pilot Andy Hermansky flew the main trail up to 11K, and the route still looks great. No crevasses have opened up yet, although from the air, looks like it could be imminent with a few more warm days.
 
Ranger Reports
NPS 14K Patrol #3 -
(Erickson/Baldwin)  Chris, Travis, Matt, Ryan, and Josh have all made it down to Talkeetna after a job well done. The patrol had assisted a severely frostbitten climber down from Denali Pass to high camp the evening of June 6.  The following morning, Friday, the patient was evacuated from high camp via helicopter, with Chris serving as medical attendant  While Chris descended to 300 feet (Talkeetna), the rest of the NPS team headed the other direction, to the summit.  The following day they descended the mountain, and flew out of the Range on Sunday.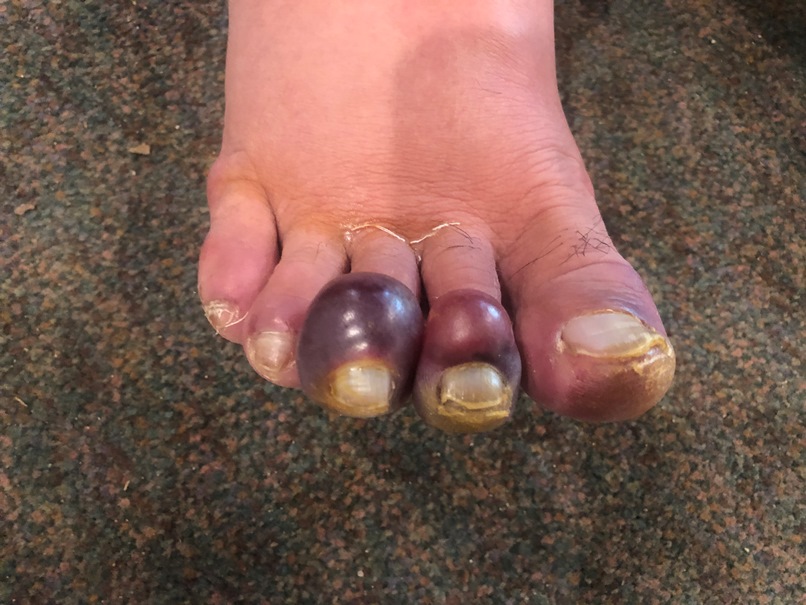 The upper mountain has been a cold and windy place this season with a nunber of frostbite cases ranging from mild to severe. 
Click here for a review of prevention and treatment of cold injuries.
(NPS Photo / Chris Erickson)  
NPS 14K Patrols #4
and #5
- (Weber, Gault)  Dave, Vic, and Shane headed up to high camp on Saturday, swapping out with patrol #3.  Wasting no time, they headed to the summit on Sunday, along with 30 to 35 others.  Now they are enjoying a day at high camp.  Pat, Eric, and Karsen remained at 14K, but did a day trip up the fixed lines over the weekend. Some great photos to come! Pat and Eric may head up to high camp later today.
NPS 14K Patrol #6
- (Westman)  Mark, Justin, Rebekka, and Keshar reached 14K over the weekend, and are just getting situated.  Lots of comings and goings during the recent block of fine travelling weather.
NPS 14K Patrol #7
- (Beren) The final West Buttress trip of the season flew into Basecamp yesterday, perhaps without getting a group photo...so standby for that.  In the mean time, use your imaginations to visualize NPS ranger Jake Beren, Pararescueman John Mellencamp, and VIP's Jeff Perambo, Billy Masterson, Sean Hart, and John Mortimer.  The patrol is slightly larger than most, as they will be doing most of the mountain pack-up in 3 to 4 weeks.  
NPS 7K Patrol #5 and #6
 - (Preston, Coady)   Frank has been overseeing NPS Basecamp operations for the last week and half, providing critical communication links b/w Talkeetna and high camp while also fitting in a few great ski tours with his VIP Rebecca. Today, Ranger Melis Coady and three VIPs: Joyce Jenkins, Emily Sullivan, and Brooke Edwards head in for a week and half.  
***For more tales from the hill, check out Denali Rescue Volunteers (DRV) on Facebook and Instagram.***

Photo of the Day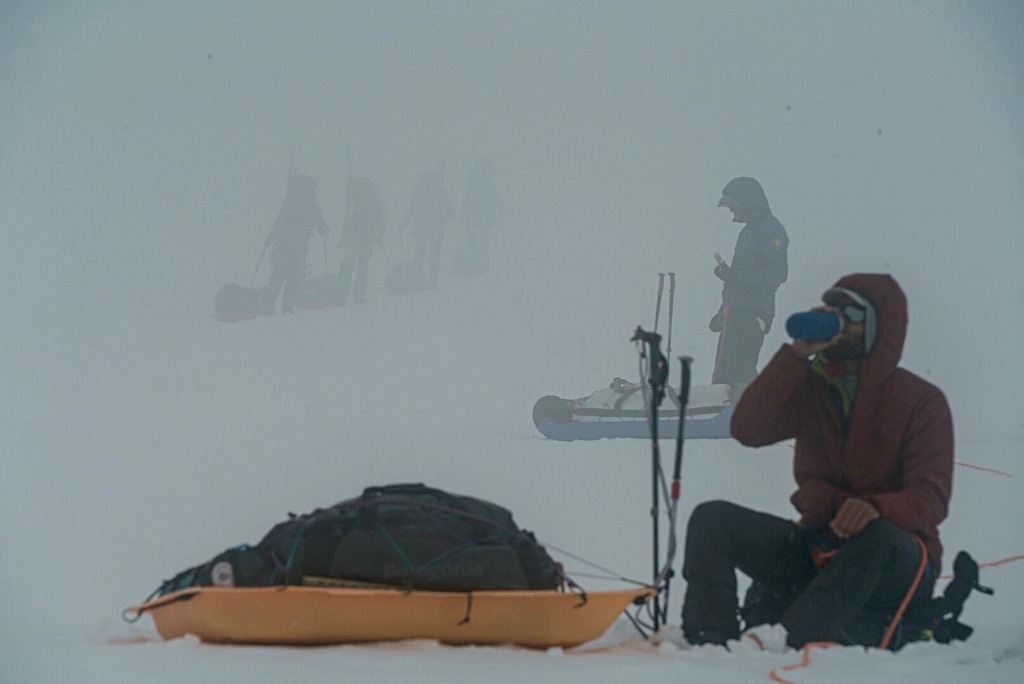 Water break.
  (NPS Photo - David Weber)