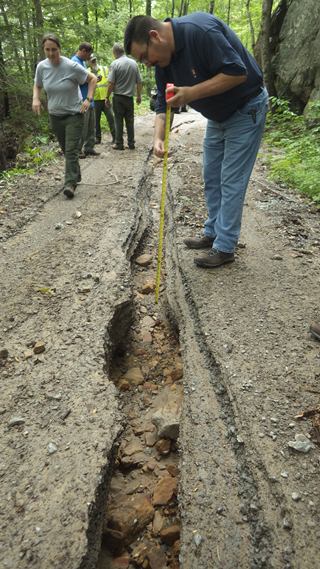 News Release Date:
July 22, 2015
Contact: Sula Jacobs, (606) 246-1052
Contact: Carol Borneman, (606) 246-1070
Hensley Settlement Tours Cancelled For the Remainder of the Season
The Shillalah Creek Trail, used to access the historic Hensley Settlement in Cumberland Gap National Historical Park, has been closed to all visitor use due to severe damage caused by the recent heavy rains. Deep ruts and undercutting of road edges have made the 4.6 mile long road impassable and very unstable. Heavy water continues to run off of the mountain and down the road, continuing to erode its surface and subsurface. Any type of visitor use –whether by pedestrians, horses, bicycles or vehicles - could result in serious injury. Hensley Settlement tours, conducted by park staff, have been cancelled for the season.The August 12th Shooting Star Spectacular at Hensley Settlement has also been cancelled.
Superintendent Sula Jacobs remarks: "We are sad that so many park visitors who eagerly take the park tour or otherwise visit Hensley Settlement via Shilillah Creek Trail will not be able to do so until proper repairs are made. Our priority remains safety for park visitors, volunteers, and staff." 
Robert Beech, the park's Facilities Manager, describes the damage as astounding. "Damage to the road is readily apparent near Shillalah Falls, which right now is roaring!We've discovered one rut that is at least four feet deep. Culverts have been exposed. Banks are undercut and as water is still flowing over the road, there will be additional and significant damage. Repair of the road will take time with the road being so unstable, we'll literally have to creep along with the heavy equipment that will be required to make the necessary repairs."
Though the Shillalah Road is closed indefinitely, Superintendent Jacobs encourages all to visit their national park. "The park's team can recommend alternate tours and trails to take. The park Calendar of Events has many exciting events for the remainder of the year and we hope visitors will partake in these while we work on the road. Visitors can also take an armchair visit of the settlement by watching the park films or immerse themselves in a virtual tour of the settlement."
For more information, visitors can call the park visitor center at 606-246-1075.