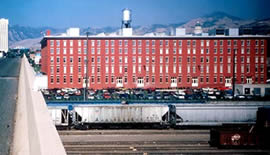 This new atrium meets the Standards for Rehabilitation
The new atrium is very small in comparison to the building's size and covers less than 10% of the building footprint. Retaining the wood post and beam structure helps to show that the atrium is a new feature that has been created by cutting out a portion of the interior of the historic building (above, left). The package chute was retained as a character-defining feature of the historic industrial building (above, right).
Photos: NPS files
Location, size, and scale of a new atrium within the historic building
An atrium should be contained within the mass of the building and not visible from the exterior. It should not be located immediately inside the exterior walls.
The size and proportion of the atrium should also be small relative to the overall scale and proportion of the interior spaces. In other words, the new feature should not become the dominant space inside the historic structure. Making the new atrium a physical or visual extension of an entrance lobby is also not appropriate.
Generally, the smaller the atrium, the less impact the atrium will have on the historic character of the structure.
Atrium design
An interior space that was historically enclosed or covered by a roof should be preserved in any new design for an atrium. Generally, an open-air or uncovered atrium courtyard will not meet the Standards.
The inserted atrium should appear as and be perceived as a new interior space.
The general design and detailing of the atrium should be compatible with the historic character of the building.