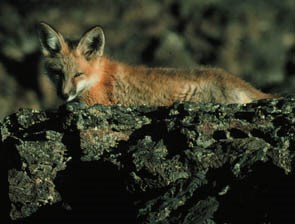 Fifty eight species of mammals are known to live at Craters of the Moon. Some animals, such as golden-mantled ground squirrels, chipmunks, yellow-bellied marmots, and mule deer, are common and seen by many visitors. However, since many desert animals are inactive during daylight hours or wary of humans, sightings can be truly special events. Tracks and scat are often the only sign of an animal's presence.
Smaller mammals can more easily adapt to the hot climate and scarce water at Craters of the Moon. Their size makes migration more difficult, they require less food and water to live, and they have an easier time finding shelter than larger mammals. Rodents are numerous. There are twenty one species, including ten mice and seven squirrels.
Many animals have unique adaptations to allow their survival on the lava flows. American pikas at Craters of the Moon are darker than pika from the mountains and are rarely seen during the heat of a summer day, but are frequently seen and heard in the hours near dawn and dusk.
The many caves at Craters provide year-round refuge for eleven species of bats. During the summer months, little brown and long-eared bats are frequently seen in the campground and from the loop road as they feed on gnats and other small insects. Many caves also contain the nests of bushy-tailed woodrats. Although these are rarely seen, they are a common inhabitant of the lava flows.
Larger mammals, like mule deer and elk, must cover greater territory in order to find food and water, and sometimes migrate to nearby mountains during the summer. Mule deer have a unique dual migration where they migrate to mid elevations in the spring and to higher elevations in the late summer as vegetation dries out. America's antelope, the pronghorn, migrates through Craters in the spring and fall and newborns are sometimes seen with their mothers in the spring.

Wildlife Checklist (Amphibians, Reptiles and Mammals)