Rim Village at Crater Lake National Park
Rim Village is located on the southwestern edge the Crater Lake caldera at an elevation of 7100 feet above sea level. The landscape is a mixture of highly designed developed areas and natural areas, including large indigenous hemlock trees and the fragile landform of the caldera. Rim Village is approximately 32 acres.
We protest the desecration and profanation of Oregon's greatest scenic asset and beauty spot with any collection of shacks as that proposed. "Spoiling Crater Lake," written in the Salem Capital Journal, appearing in the Grants Pass Daily Courier, August 3, 1927.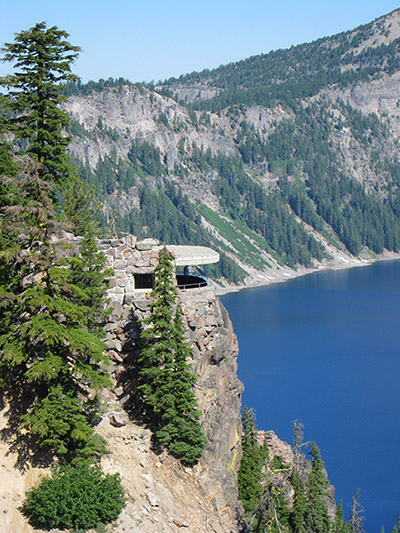 Rim Village reflects National Park Service planning efforts at Crater Lake during the 1920s and 1930s, embodying the broad range of goals associated with early master planning efforts. Conceived as a model "village" development, Rim Village was designed to concentrate visitor services in one place. 
Other landscape elements, meant to further enhance the visitor experience, were included and resulted in the development of the promenade, observation bays, and the Sinnott Memorial; these walkways and viewing platforms, in concert with visitor services, provided people with a convenient setting in which to appreciate the lake's unique beauty and geology.
Rim Village represents the complementary styles of Rustic Architecture and Naturalistic landscape architecture (distinctive methods of construction). These methods of design were implemented during the period of significance when many of Rim Village's landscape features were designed and constructed.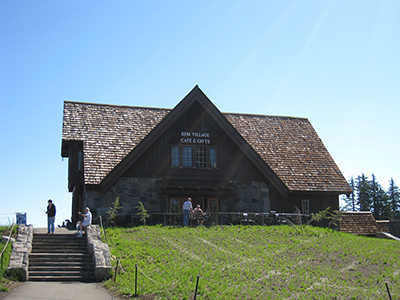 Rim Village's buildings, vegetation, roads, trails, and small-scale features incorporated 18th-century picturesque and 19th-century naturalistic theories of design, using the park's indigenous stone, lumber, and native plants as basic materials. These theories and ideas were applied, refined, and advocated for by such NPS park planners as Thomas C. Vint and others on the NPS staff at the Western Field Office in San Francisco—where all planning and design work was conducted for Rim Village. Consequently, Rustic features at Rim Village represented the trend during the period of significance to blend built structures with their surrounding environment, appearing hand-crafted or primitive, as if created without the use of technology available at the time—preserving the surrounding beauty of the landscape.
The period of significance is 1927 through 1941, encompassing the years when Rim Village was designed and constructed under the direction of Thomas C. Vint of the NPS San Francisco field office. Rim Village is significant on a national level for its association with the events of the American Park Movement and early NPS master planning and for its distinctive method of construction, associated with the National Park Service Rustic and Naturalistic Landscape architectural theories of design. 
Quick Facts
Cultural Landscape Type: Designed
National Register Significance Level: National
National Register Significance Criteria: A,C
Period of Significance: 1927-1941
Landscape Links
Last updated: May 20, 2019