Park Presented Governor's Film Advocate Award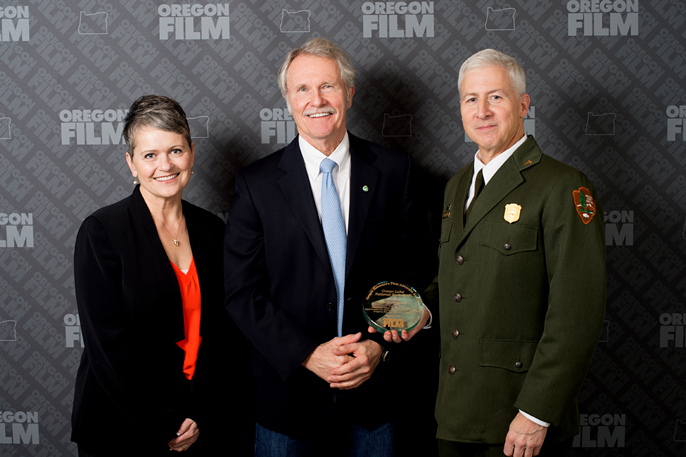 News Release Date:
January 16, 2015
Contact: Marsha McCabe, (541)594-3091
In a ceremony on January 6, 2015, in Portland, Oregon, Crater Lake Superintendent Craig Ackerman accepted the Oregon Governor's Office of Film and Television Film Advocate Award on behalf of all staff for their contributions to advancing the film and television industry in the state.The award specifically highlighted the cooperation and collaboration with the Oregon Film Office and Fox Searchlight Pictures in producing the major motion picture "Wild," a film by award winning director Jean-Marc Vallee, based on the memoir of author Cheryl Strayed'slife-changing journey along the Pacific Crest Trail.
The filming was originally scheduled to take place the first week of October 2013, but due to the federal government shutdown crews could not enter the park to complete their work.The park kept in constant contact with the production company, the Governor's office and Oregon's Congressional delegation to ensure that once the shutdown ended, modifications to the commercial film permit were made that would allow the work to be completed before inclement weather closed the sites at which the takes were made.Oregon Senator Ron Wyden provided a letter, read at the presentation that stated in part: "…I want to add my voice to the chorus of Oregonians in honoring the outstanding staff at Crater Lake National Park with the well-deserved Oregon Governor's Film Advocate Award.Their fantastic service to the producers of the movie "Wild" means the entire world can now share in witnessing the matchless beauty of one of Oregon's "Seven Wonders" –the treasure we proudly call Crater Lake.They ensured the movie crew had the access —and the assistance they needed —to film in the national park…"
Author Cheryl Strayed herself presented the award to Superintendent Ackerman and Crater Lake Trust Executive Director Carolyn Hill in front of a large gathering of people from throughout the film and television industry in Oregon, as well as public officials and travel and tourism partners.Ms. Strayed commented that Crater Lake was "perhaps the most spiritual and engaging place I encountered on my difficult journey. "She expressed great appreciation to the park staff for their efforts and stated that the film would not have been complete if Crater Lake was not included.
Last updated: February 28, 2015