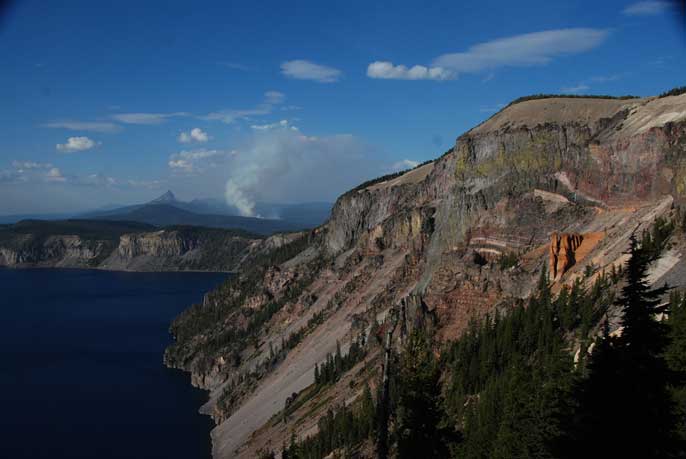 News Release Date:
September 19, 2014
Contact: Greg Funderburk, (541)594-3062
Crater Lake National Park experienced a strong warming and drying weather trend between September 11th and September 16th. During this period the lightning ignited Founders Day Fire grew steadily from 15 acres to 188 acres. On September 17th the passage of a cold front and associated low pressure trough brought moderating conditions to the fire area.Although strong winds were forecast, they did not materialize on the fire and the increased humidity and light rain fall has significantly reduced fire activity.
The moderating weather conditions have slowed the fire's growth and currently the fire is approximately 225 acres in size. Fire effects have been positive with variations in severity including removal of large areas of dead ground vegetation and minimal tree mortality. Although a warming and drying trend is forecasted through the weekend, another frontal system is forecast for the middle of next week which should further mitigate fire growth.
The Founders Day Fire, which was discovered on August 25th, has benefited from continuous planning and analysis from fire management and ecology staff from throughout the southern Oregon and Northern California region. Staff has used short term and midterm fire behavior models to help anticipate the fire's growth and plan for any actions that would be needed. Staff has also used longer term (7-14 day) fire spread probability models to help frame the range of likely fire movement and successfully manage the fire. Professional fire managers for the Park Service, continue to work closely with the management staff of the adjoining district of the Fremont-Winema National Forest to plan for the possibility of the fire crossing the shared administrative boundary. This behind the scenes work has contributed significantly to the successful management of the fire to date.
There are no road or trail closures associated with the fires burning within the park. Smoke from the Founders Day Fire is minimal and is not impacting park operations. Local residents are encouraged to visit the park to personally witness this impressive force of nature in its beautiful natural setting. To follow the continuing story of the Founders Day fire to its natural conclusion, you can check the following websites:
·https://inciweb.nwcg.gov/incident/4103/
·Crater Lake National Park News Releases
·Crater Lake National Park Facebook