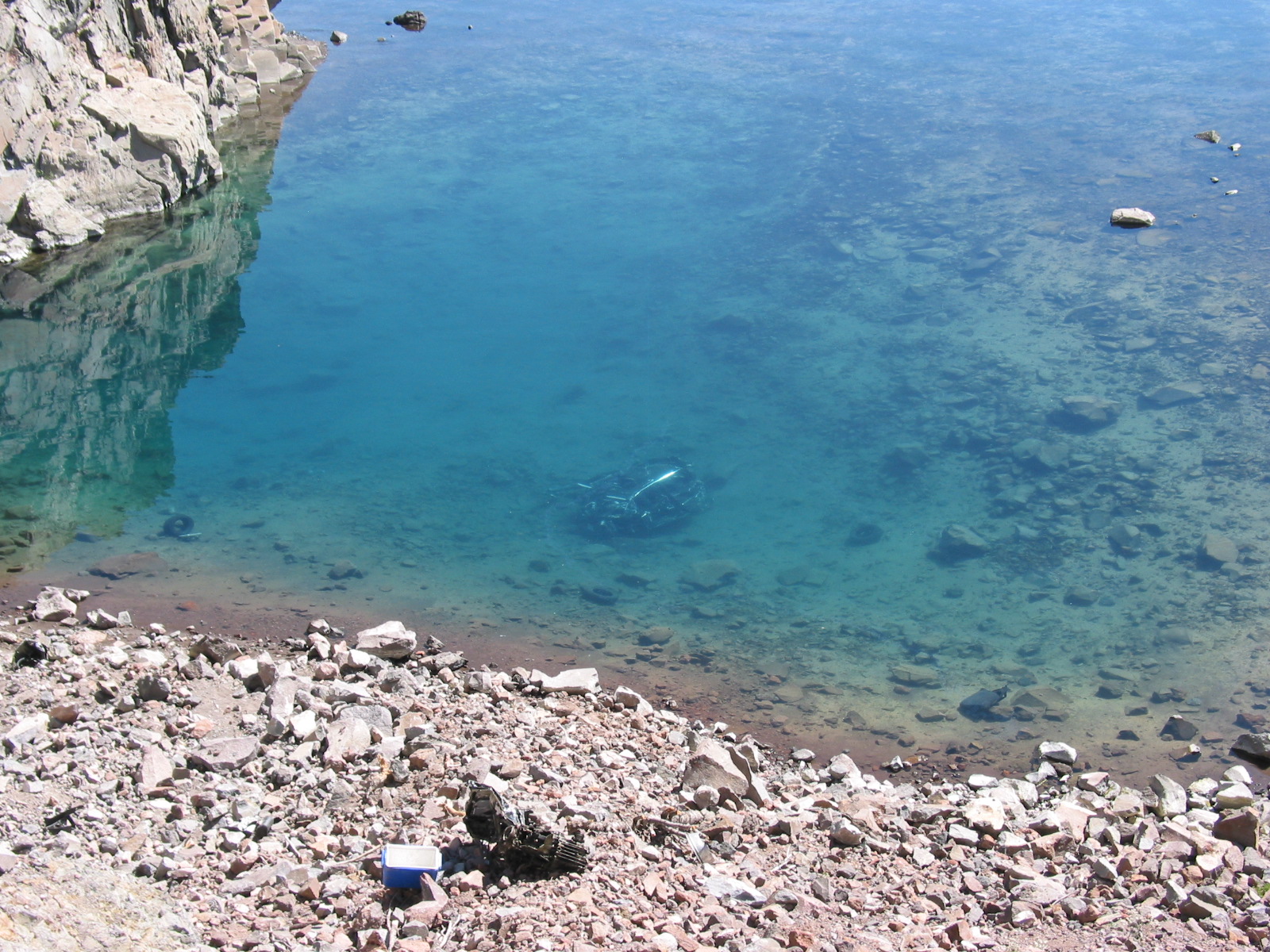 News Release Date:
September 16, 2010
Contact: Pete Reinhardt, 541-594-6056
Contact: Marsha McCabe, 541-594-3091
On the evening of September 11 a young couple from Ashland, Oregon was visiting Crater Lake National Park and stopped near the North Junction Scenic Overlook to view the lake. Early investigation indicates that the vehicle operator failed to engage the emergency brake on the 1993 Volkswagen Passat when he exited the vehicle. The vehicle rolled backwards out of the parking area and over the edge of the caldera plunging more than 1,100 feet to the lakeshore. There were no injuries but the vehicle was completely destroyed. The family dog was in the vehicle at the time of the mishap. The pet escaped the falling vehicle and made her way back up to her owners with only minor injuries. After the descent a debris trail of automobile parts and personal artifacts was scattered down the wall of the caldera. Only a small section of the car remained intact when it entered the lake. The engine, transmission, and drive train were scattered along the caldera wall.
Clean up and recovery of the personal items and vehicle parts following this incident will be very challenging due to steep elevations, loose talus slopes, and limited lake access. Park officials are working quickly to develop a plan to remove all the material before winter snow arrive in order to prevent debris and potential contaminants from reaching the water.
Park visitors are reminded to always place their vehicles in "park" and set the emergency brake before exiting their vehicles along the scenic overlooks. Please keep hold of children and pets and enjoy the beautiful views of the lake from behind rock walls and wooden railings.