Partners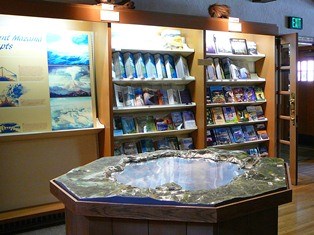 Crater Lake Natural History Association
The Crater Lake Natural History Association, established in 1942, is an officially recognized National Park Service non-profit cooperating association dedicated to advancing educational and scientific activities at Crater Lake National Park and Oregon Caves National Monument. They operate the park stores at Steel and Rim Visitor Centers. Click here for more information about the park store, products, and the national park passport.
The Crater Lake Ski Patrol
Established in 1983, the Crater Lake Ski Patrol is an integral part of winter operations at the park. Highly trained patrol members provide information and assistance to park visitors, and participate in park search and rescue operations. Patrol members coordinate closely with park staff on a variety of tasks. In turn, Crater Lake National Park develops and maintains a skilled and capable cadre of volunteer patrol members to assist visitors through out the winter. Click here to go to the ski patrol volunteer recruitment page.
Friends of Crater Lake National Park
Founded in 1993, Friends of Crater Lake National Park is a non-profit organization cooperating with the National Park Service in the stewardship of the natural and cultural resources of Crater Lake National Park. Cooperation may be provided through supporting appropriate visitor opportunities to observe, experience and understand the character of the area; working with park staff in completing special projects; and taking the lead in fund raising for special projects.
Crater Lake National Park Trust
The Crater Lake National Park Trust was formed while planning for the park's 100th anniversary in 2002, and originally operated as a committee of the National Park Foundation. The Trust became independent in late 2006 and was operating as a fund of the Oregon Community Foundation. The Trust obtained its tax-exempt status in January of 2008 and is now operating as an independent 501(c)(3) nonprofit organization.
Crater lake National Park Trust works to help protect, promote, and enhance Crater Lake National Park, its unique water purity, and its value for human inspiration and knowledge. The Trust's fund raising efforts provide support for Classroom at Crater Lake school programs, and the Science and Learning Center.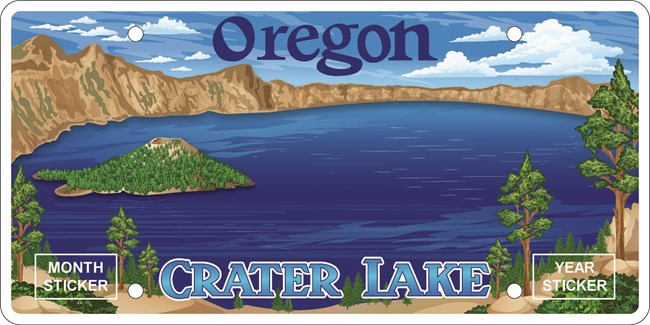 The first Crater Lake license plates were issued in 2016 marking the centennial celebration of Crater Lake National Park. A new, redesigned license plate is available through Oregon DMV beginning September 9, 2022.
CRATER LAKE LICENSE PLATES: FAQ'S
How much does the plate cost? In addition to regular title, registration, and plate fees, the Crater Lake plate has a one -time surcharge at original issuance of $30.00.
Can I customize my Crater Lake license plate? Yes! Like other Oregon license plates, the Crater Lake plate my be customized for an additional DMV charge.
Can I transfer my current custom plate configuration to a Crater Lake license plate? Yes, you will be able to maintain your current custom configuration on a Crater Lake plate for an additional DMV charge.
I do not live in or have a registered vehicle in the state of Oregon. Can I purchase a souvenir plate? Sadly, no. Crater Lake license plates are only available with passenger vehicles registered in the State of Oregon. Souvenir or sample plates are not available.
I already have a Centennial Crater Lake License plate, can I keep it?
Yes! Your current plate will remain valid for as long as you continue to renew registration. You do not need to replace your plate with the new design.You can transfer the Centennial Crater Lake License Plate to another vehicle if you want. You will need to pay the plate transfer fee.
How do I get a Crater Lake License Plate? Apply at an Oregon DMV Field Office, or on line DMV2U or through your Oregon dealer when you purchase a vehicle.


Last updated: September 8, 2022