Nature & Science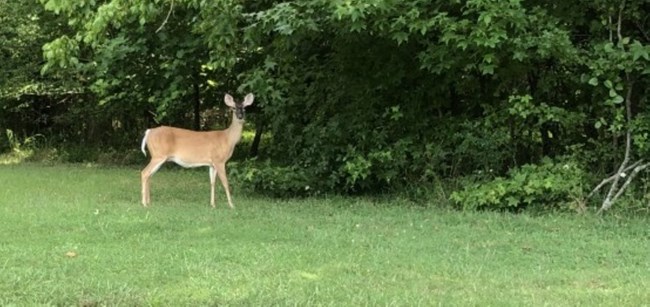 Cowpens National Battlefield includes 842.5 acres of land which hosts a wide variety of plant and animal life.
Animal life is plentiful at the park. A daytime hike might provide a glimpse of white-tail deer or a multitude of birds, and frogs along the streams throughout the park. As dusk falls, opossums, raccoons, bats, and other nocturnal creatures emerge and begin their search for food.
In 2007, the Cumberland Piedmont Network, sponsored by National Park Service, conducted a study at Carl Sandberg Home National Historic Site, Cowpens National Battlefield, Guilford Courthouse National Military Park, Kings Mountain National Military Park, and Ninety Six National Historic Site to document bat species at each site. The presence or absence of bats can indicate the health of an ecosystem. Researchers found four species of bats at Cowpens National Battlefield.
For more information about bats, go the National Park Service page dedicated to them.
The park provides many specialized habitats for threatened plants and is home to rare ecosystems. There are 542 species of plants at the park, many of which are very unique to the area. However, at least 28% of the plants at Cowpens are not native, and natural environments are being threatened by invasive species.
Last updated: April 9, 2023