Basic Information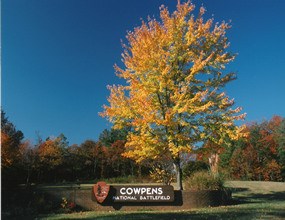 Cowpens National Battlefield is a Revolutionary War battle site that commemorates the victory of Brigadier General Daniel Morgan over his dreaded foe, Lieutenant Colonel Banastre Tarleton, in the cause for American Independence. It was an important link in a chain of events that ultimately led to the defeat and surrender of the British commander Lord Earl Cornwallis at Yorktown, Virginia, in October 1781. The battlefield is a unit of the National Park System, a bureau of the United States Department of the Interior.
The 845-acre park is open daily from 9:00 a.m. - 5:00 p.m., and closed on federal holidays except for Memorial Day, Independence Day, Labor Day, and Veterans Day. There is a Visitor Center, battlefield, trail, auto loop road around the perimeter of the battlefield, and a picnic area with a covered shelter.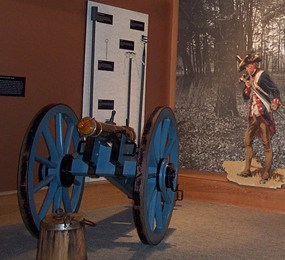 Available Resources and Facilities

VisitorCenter:
Museum contains a reproduction 3-pounder cannon, other weapons of the Revolutionary War period, and exhibits.
"Cowpens: A Battle Remembered" is a laser disk presentation show hourly in the museum. The 18 minute show was filmed offsite in 2006 and depicts the events of the battle.

American Battlefield Trust film is an 18-minute video about the American
Sales Outlet operated by America's National Parks offers books, posters, postcards, slides, and theme-related souvenirs for purchase.
Battlefield Trail:
The partially paved self-guided 1.2 mile trail includes wayside exhibits, the 1856 Washington Light Infantry Monument and the historic Green River Road that both armies used to get to the Cow Pens. (45 minutes) Video of Ed Bearss' guided walk
Auto Loop Road:
The 3.8 mile 1-way road travels the perimeter of the battlefield and includes wayside exhibits, parking areas with short trails to the Green River Road, the circa 1828 Robert Scruggs Log House, and access to the picnic area. The loop road closes at 4:30 pm. Audio narration by Ed Bearss
Picnic Area:
Located 1 1/2 miles down the tour road, the area provided picnic tables, grills, and restroom facilities. A covered picnic shelter is available to groups through a special use permit for a small fee. Contact the staff at the Visitor Center for information on the permit. The loop road and picnic area close at 4:30 pm.
Last updated: May 7, 2020