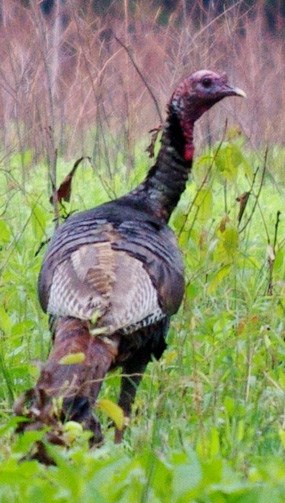 Cowpens National Battlefield hosts a wide variety of wildlife. Turtles, frogs, and salamanders live along the streams and wetlands. White-tail deer, cotton-tail rabbits, and turkeys are a common sight along the loop road. There are many insects and arachnids, including wolf spiders, hummingbird moths, and the migratory monarch butterfly.

Many species of migratory birds pass through the area during the spring and fall, sometimes stopping to forage on the battlefield and surrounding forest. The seasonal visitors include the scarlet tanager, indigo bunting, and many types of warbler. Some year-round bird residents include the turkey vulture and black vulture, cardinal, chickadees, and various species of woodpeckers. There are also many birds of prey that can be seen at Cowpens, including red-tailed hawks and merlins.

Turkeys are a common sight on the battlefield loop, and a visitor favorite.