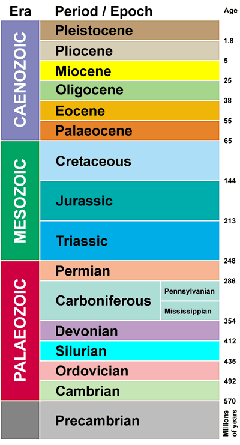 Precambrian Eon (4500-542 Ma*)
Formation of Arizona
*million years ago
The geologic history of Arizona begins around 1.7 Ga (billion years ago) when a series of volcanic island arcs similar to the Hawaiian islands began colliding with the North American
craton
(a continental core which makes up ancient North America) known as Laurentia. Previously, Laurentia only extended as far southwest as present day Wyoming, but with these island accretions almost all of southern Arizona was added by 1.4 Ga and permanently welded to Laurentia by a series of granitic
intrusions
, meaning that magma rising within the earth's crust met an area with solid rock. This intrusion is akin to an underground volcanic eruption that crystallizes into rock before it reaches the earth's surface.
The rest of Precambrian history in southern Arizona is largely a mystery because about 850 million years are missing from the geologic record. This gap in geologic history is called an
unconformity
.
Paleozoic Era (542-251 Ma)
Shallow Seas and Sediments

The oldest rocks exposed within the park are from the Pennsylvanian-Permian age Naco Group (319-251 Ma). Geologic units from this time are sedimentary, layers are deposited above ground and then compressed and recrystallized into rocks. The most prevalent type of rock within the park from this era is limestone, but sandstone, siltstone and shale deposits can also be found within the park. Sandstone, siltstone and shale are all variations of rocks made up of compressed sand with sandstone having the biggest grains, and shale having the smallest.