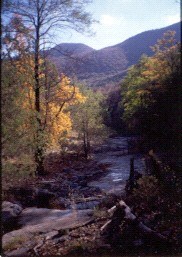 Several National Park Service sites have established "sister park" relationships with national parks in other countries.
Reserva Forestal Nacional y Refugio de Fauna Silvestre Ajos Bavispe
Coronado National Memorial has two sister parks in Mexico. Beginning in October of 1996, Ajos-Bavispe National Forest Reserve and Wildlife Refuge and Coronado National Memorial initiated a partnership effort to promote the sharing of information and expertise along the México-United States border. The goal of this partnership is to strengthen the management of ecosystems across the Arizona-Sonora border for the common goal of enhancing conservation of similar natural and cultural resources.
The Ajos-Bavispe National Forest Reserve and Wildlife Refuge, is vital for both flora and fauna and for human activities.
The reserve is located in a region known as the Sky Island Archipelago (Islas del Cielo) and is divided into 5 sections which occupy part of 14 municipalities.
The mountains serve as
sources for the Sonora, Santa Rosa and Bavispe rivers. These important rivers represent more than a third of the water for state of Sonora.
It is also characterized by very high and inaccessible areas, allowing you to have varied fauna, since it is the refuge and habitat for species such as the black bear, jaguar, puma, ocelot, eagle, bald eagle, wild turkey , prairie dog, collared peccary, beaver, deer, mule deer, bats, coyotes and gray foxes, to name a few.