Accessibility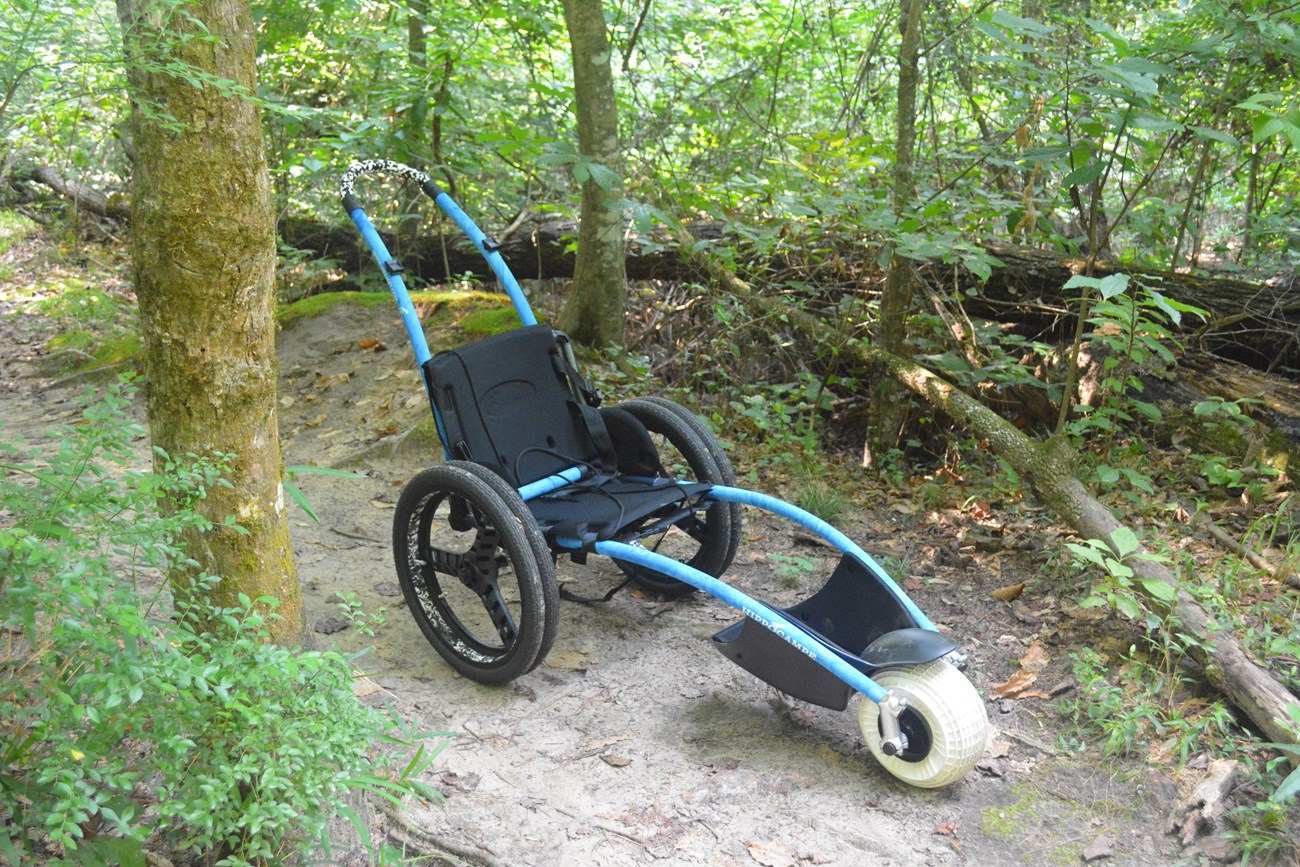 Congaree National Park is dedicated to providing meaningful, engaging opportunities to all individuals. Congaree is over 80% federally designated wilderness and may be experienced using our ten trails, including the most popular and accessible Boardwalk, paddling on Cedar Creek, and camping.
Park Visitor Center and Resources
Harry Hampton Visitor Center
There are three parking lots located outside the visitor center. The first two lots each have two accessible parking spaces. The third lot, which is for oversized vehicles, has one accessible parking space.

The visitor center has accessible restrooms, including a 24-hour family restroom, as well as an accessible water fountain located outside.

During normal operating hours, the visitor center may be accessed using automatic doors. The park information desk, exhibits, and store are all located on one level.

The following resources are available at the Harry Hampton Visitor Center during normal operating hours. Please ask a ranger, volunteer, or park store employee for assistance if any of these resources are required.
Standard wheelchair
All terrain wheelchair
Brail brochure
Wheelchair Information and Specifications
Congaree has wheelchairs available to loan free of charge from the Harry Hampton Visitor Center during standard operating hours. Wheelchairs are loaned on a first come, first serve basis. Visitors may call ahead to inquire about availability, or to request use of a wheelchair during a specific time.

There are different wheelchairs to choose from, including one standard sized and two large; as well as three Hippocampe all-terrain wheelchairs. Specifications and additional information may be found below.
Weight:
 38lbs
Seat Width: 
15.75in
Seat Depth:
 14.57in
Max Weight: 
286lbs
Seat to Ground: 
13.4in
Total Width: 
25.2in
Back Height:
 14.57in
User Responsibility:
We recommend that all Hippocampe users hike with a companion.
Minors are required to have an adult companion over the age of 18.
Return the Hippocampe Chair in the condition it was found, minus reasonable wear and tear.
Operation Instructions:
The Hippocampe can be self-propelled, pushed from behind by a companion, or pulled by a companion using a tow rope.
The front wheel does not rotate, so turning is accomplished by either skidding the wheel from side to side or by tilting back to lift the front wheel.
Gloves are recommended.
Safety:
Maximum weight is 286 pounds (129 kg). This includes equipment.
For the safety of animal and owner, it is recommended that pets not join in the Hippocampe chair hike. However, Service Dogs are welcome and may be used as deemed appropriate by owner.
Designated Trails:
Hippocampe all-terrain chairs are only recommended on the following trails:
Boardwalk Trail
Bluff Trail
Longleaf Trail
Firefly Trail
Sims Trail
Weight: 
42lbs/52lbs
Seat Width: 
45cm/60.5cm
Seat Depth:
 38.5cm/44cm
Max Weight:
 350lbs/450lbs
Seat to Ground: 
46cm/46cm
Total Width:
 65cm/84cm
Back Height: 
91cm/89cm
Total Length: 
107cm/109cm
Designated Areas
Standard wheelchairs only recommended in the following areas:
Boardwalk Trail
Visitor Center/breezeway
Parking lot
Picnic shelter 
Additional Information:
There are two sections where the Boardwalk Trail intersects Sims Trail. These intersections may be difficult to cross, and have a soil/gravel surface.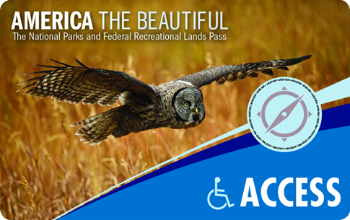 Access Passes
The Access Pass is a free, lifetime pass - available to U.S. citizens or permanent residents of the United States that have been medically determined to have a permanent disability (does not have to be a 100% disability) - that provides admittance to more than 2,000 recreation sites managed by five Federal agencies.
At many sites the Access Pass provides the pass owner a discount on Expanded Amenity Fees (such as camping, swimming, boat launching, and guided tours).
Access passes may be obtained at any national park that charges an entrance fee, or online. For more information, please visit: America the Beautiful - National Parks & Federal Recreational Lands Access Pass | USGS Store.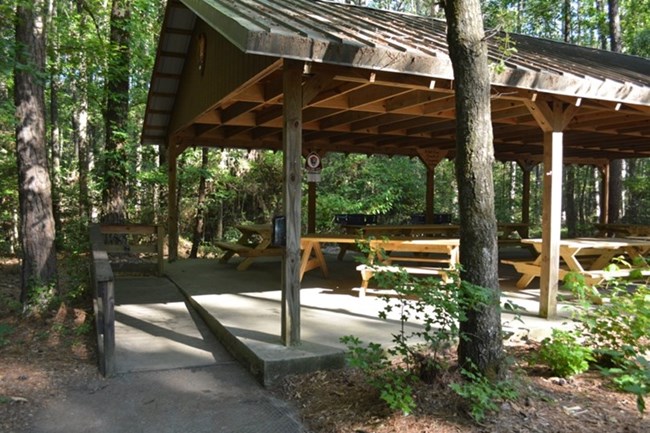 Other Park Locations
Picnic Shelter
From the first parking lot there is a clear, paved path to the picnic shelter. There are two wheelchair accessible tables in the picnic shelter. There are also two wheelchair accessible picnic tables located in between the parking lots.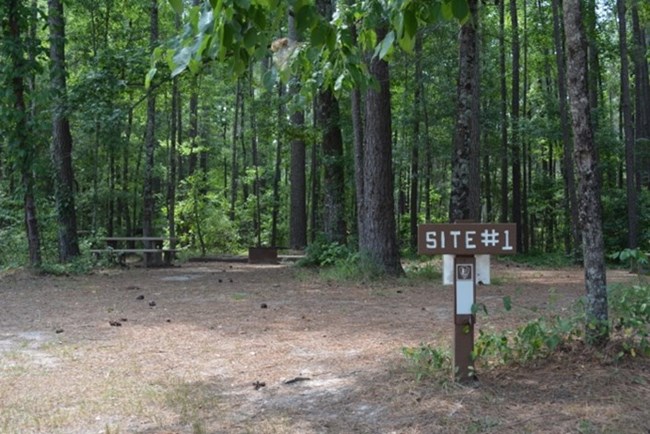 Campgrounds
There is one accessible campsite at Longleaf Campground, Site 1. Routes to campsites at Longleaf are packed dirt and fine gravel. The parking lot at Longleaf Campground is gravel. There are accessible vault toilets directly off the parking lot. Campsites may be reserved online or over the phone through Recreation.gov.
Cedar Creek: What to Expect at Launches
Paddling on Cedar Creek is a wonderful way to experience the park. Visitors may bring their own boats and launch from either of our two boat launches, or sign up for a ranger-led canoe tour. Always check current conditions before your trip! Details about our two boat launches may be found below:
South Cedar Creek Canoe Landing
Has a large gravel parking lot, with two accessible parking spaces beside vault toilets.
Creek access is downhill from parking, terrain uneven in places.
A set of stairs (8 steps total) leads down to the usual launch point for paddlers.
Bannister Bridge Canoe Landing
Has a small gravel parking lot and no accessible parking or restrooms.
Paddlers must use a long, at times narrow trail to access the launch point. This trail has a soil surface type, with some root obstructions.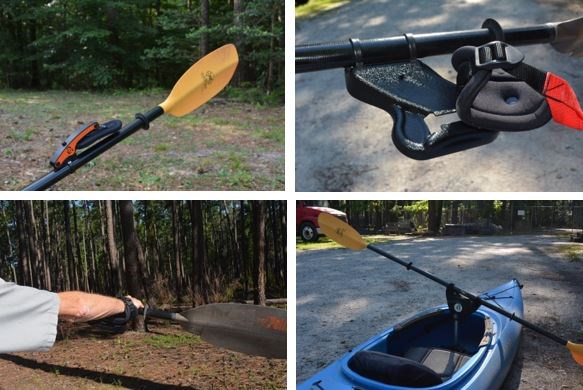 Kayak Adaptations
Congaree National Park offers the following kayak adaptations for people with disabilities. These tools can be loaned out free of charge to those providing their own kayak or provided one our ranger guided canoe tours. We currently have two sets of each adaptation and they are first come, first serve. Please let the park know at least 24 hours in advance if you are scheduled for a canoe tour and require an adaptation.
Back of Hand Adaptation

these allow users with weak grip to keep a kayak paddle in their hands.

Wrist Slide Adaptation

these allow users with no grip to use a kayak paddle

Paddle Pivot

This allows users with use of only one arm to paddle a kayak
If you have any questions regarding accessibility at Congaree National Park, please
contact us
. All feedback and suggestions for how we may increase access to Congaree are appreciated.
Last updated: July 19, 2023