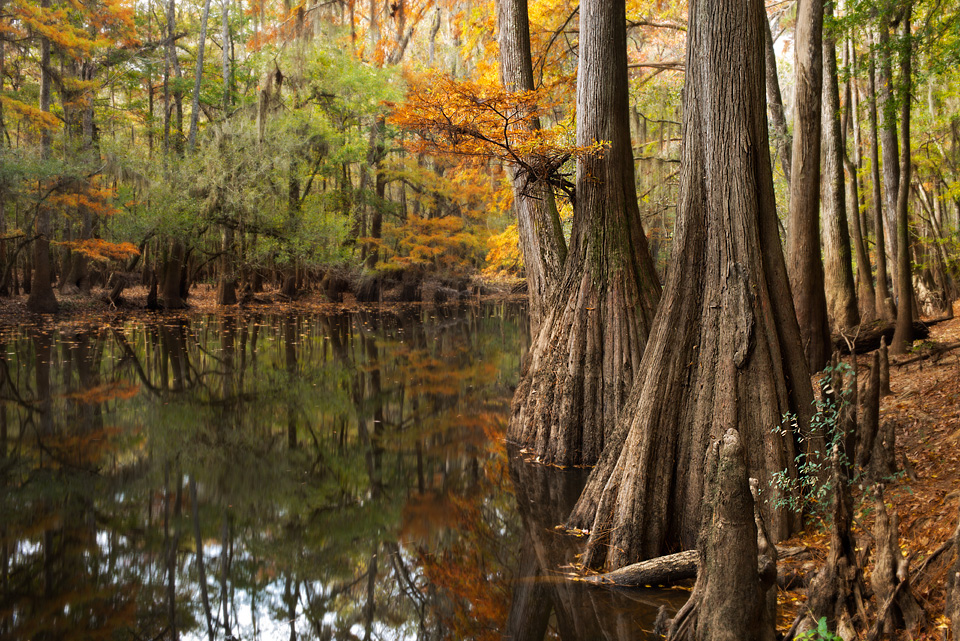 News Release Date:
December 18, 2013
Contact: Lauren Gurniewicz, 803-647-3969
Congaree National Park recently hosted its first-ever Artists-in-Residence, James and Jenny Tarpley, owners of Visio Photography in Marion, North Carolina. Formally trained in fine art, James and Jenny started their photography business 9 years ago, specializing in portraits, weddings, and fine art prints. The Tarpley's spent several weeks documenting Congaree with their creative filter and led a photography program called "Capturing Congaree" along with Park Ranger Lindsay Compton in November. James and Jenny will return for a public presentation at Columbia College in early 2014 to share their Artist-in-Residence experience and present two museum-quality photographs to Congaree National Park. Samples of James and Jenny's work can be found at http://www.visiophotography.com/.
"I see tremendous value in expanding the personal experience of Congaree National Park through the Artist-in-Residence program.Exploring Congaree through the diverse expression and creativity of our visiting artists can provide the public a new way to create meaningful connections to this very special place.We highly recommend taking advantage of the workshops, exhibitions, or tours our Artists-in-Residence provide, as these personal interactions with the artists and exposure to their individual expressions of Congaree will undoubtedly inspire a deeper appreciation of all the park has to offer", said Superintendent Tracy Stakely.
The arts have long been a part of the story of the National Parks. Artists like Thomas Moran, George Catlin and Albert Bierstadt painted the landscapes of the American West, making its vast natural wonders familiar to all Americans even before the National Park System existed. Today, many artists spend time at national parks around the country gleaning inspiration, documenting their experiences, and sharing the arts with park visitors. Writers, sculptors, musicians, composers, painters, photographers and other arts draw on the parks for inspiration through the Artists-in-Residence program. The artists participate in public programs and donate works of art to their host park at the end of their residency. For more information about the nationwide Artist-in-Residence Program visit https://www.nps.gov/getinvolved/artist-in-residence.htm.