News Release
Congaree National Park is Taking Steps to Reduce Invasive Species!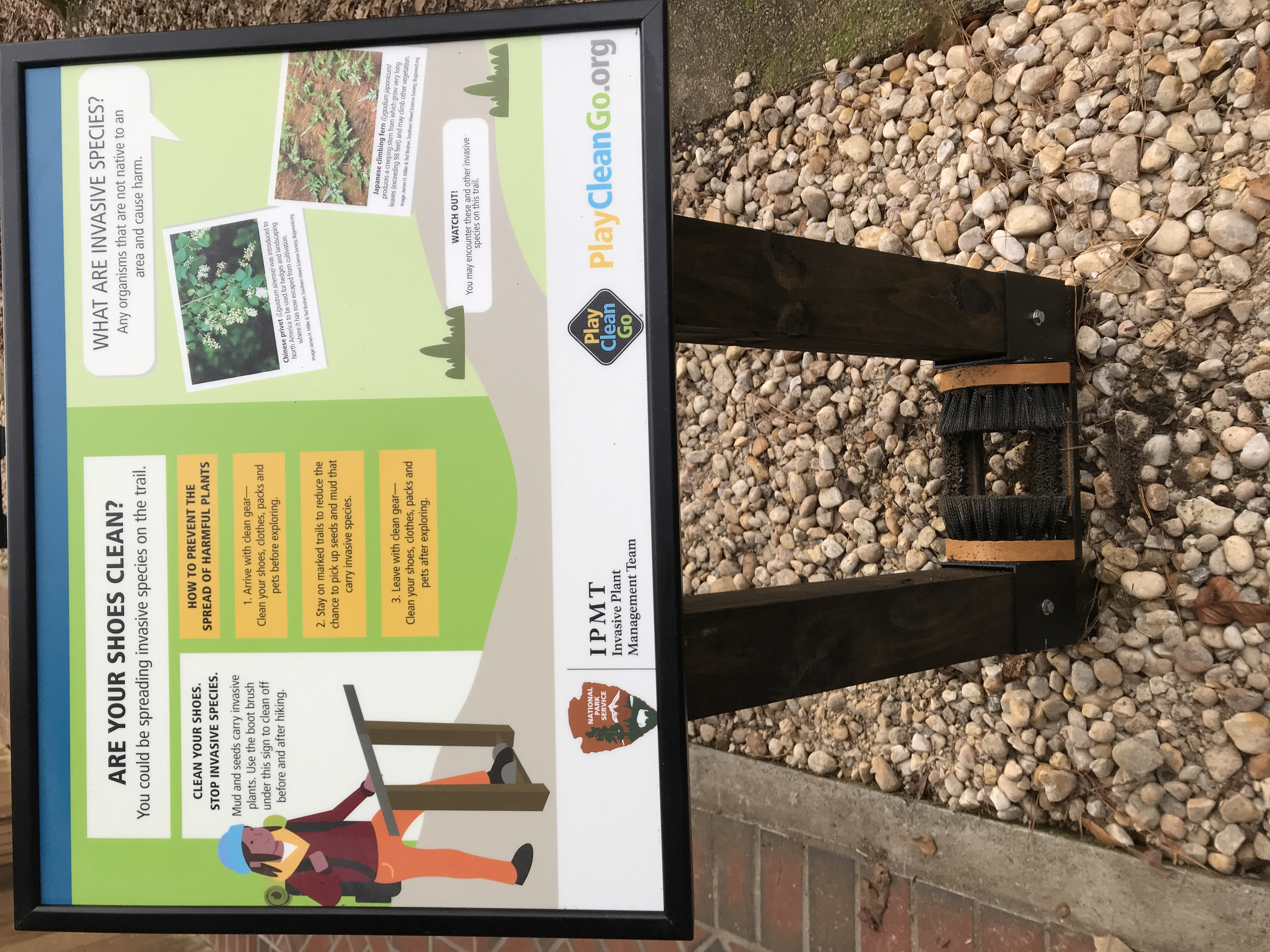 News Release Date:
December 8, 2020
Contact: Greg Cunningham, 803-647-3983
Hopkins, SC – In an effort to slow the spread of invasive plant species within Congaree National Park, a new boot brush station has been installed near the Harry Hampton Visitor Center. This station describes how invasive species can be unintentionally moved by park visitors. Invasive species are organisms that are not native to an area and that are harmful to the native plants and animals in an ecosystem. Invasive plant material, including seeds, can be transported via boots and equipment both into and out of the park. An anchored boot brush station enables visitors to easily clean their footwear as they enter and exit park trails, thereby preventing the spread of invasive plants.
Congaree National Park is home to the Southeast Coast Invasive Plant Management Team (SEC IPMT), part of the larger National Park Service IPMT program that assists parks in preventing introductions of new species, reducing existing infestations, and restoring native plant communities and ecosystem functions. "Prevention is key to reducing the threats that invasive species pose to the natural and cultural resources the National Park Service strives to protect, and we are excited to have a boot brush station for the visitors of Congaree National Park" says Dr. Lauren Serra, the Liaison for the SEC IPMT. This newly installed wayside exhibit was procured and installed through a partnership with the North American Invasive Species Management Association's
PlayCleanGo
campaign.
PlayCleanGo is a campaign to prevent invasive species from entering natural areas thorough recreational activities. The campaign's goal is to conserve valuable natural resources while encouraging recreationists to enjoy nature and to protect the places they love. Congaree National Park and the Invasive Plant Management Team hope to catch as many eyes (and shoes) as possible!
www.nps.gov
About the National Park Service. More than 20,000 National Park Service employees care for America's 422 national parks and work with communities across the nation to help preserve local history and create close-to-home recreational opportunities. Learn more at
www.nps.gov
,and on
Facebook
,
Instagram
,
Twitter
, and
YouTube
.
Last updated: December 8, 2020