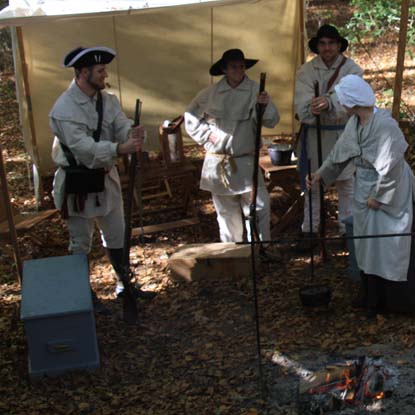 News Release Date:
October 15, 2012
Contact: Lauren Gurniewicz, 803-647-3969
The staff at Congaree National Park is excited to announce the 4th Annual Congaree Campfire Chronicles program, November 2 & 3. Park rangers will guide visitors on living history walks, exploring stories of the past in the Congaree floodplain.Costumed interpreters will depict the relationship between people and the land that is now the park in a series of campfire scenes along a portion of the park's boardwalk. The 90-minute tours will end with a campfire, marshmallows, and good company with park volunteers and staff.
Congaree Campfire Chronicles tours will take place every 15 minutes on Friday, November 2 from 6:00-8:00 pm and every 15 minutes on Saturday, November 3 from 2:00-4:00 pm and 6:00-8:00 pm. Free tickets will be available at the Harry Hampton Visitor Center. The tour is family-friendly and handicap accessible. For more information about Campfire Chronicles, call the park visitor center, 803 776-4396.
Join Congaree National Park on Facebook, Twitter, Flickr, and Pinterest.