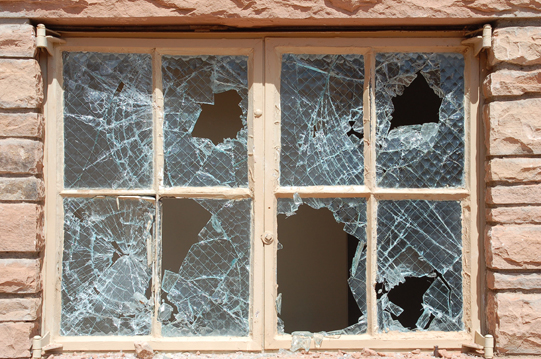 News Release Date:
August 5, 2009
On Monday night, August 3, or early Tuesday morning, August 4, vandals wantonly damaged part of the Historic Devils Kitchen stone picnic shelter in Colorado National Monument.
Vandals walked into the area past the locked gate. Vandals proceeded to break 21 panes of glass, some original to the building as well as a mirror. They also broke into a service closet, emptied a fire extinguisher onto picnic tables and the ground area, broke door handles and latches, scattered debris, and left human excrement in their wake.
This beautiful structure was constructed by hand by the hard working men of the Civilian Conservation Corps in 1941. The stone picnic shelter was placed on the National Register of Historic Structures in 1994 to recognize its nationally historic significance and the great conservation work legacy of the Civilian Conservation Corps.
The Devils Kitchen picnic area is used by more than 100,000 visitors annually, including many people who hold family picnics, reunions, and other events. Additionally it is where the Junior Ranger Explorer Summer Day Camp is staged. Fortunately, the camp had just completed its last session at the picnic area on Monday otherwise the children would have been without their camp base. The camp serves 350 children of the Grand Valley each summer at no charge to the children's families.
The Devils Kitchen parking lot, historic picnic shelter, and restrooms have been closed while the law enforcement investigation continues and to allow for safe clean up of the volume of broken glass and scattered rocks.
Groups scheduled for special events at Devils Kitchen picnic area have been notified that the area is temporarily closed and other locations are being made available as needed to these specific groups.
If you have information that would help law enforcement solve this or any other crime, please call Crime Stoppers at 241-7867 or 1-800-221-7867.
Tips can also be sent via text messaging by texting TIP729 to 274637 or by clicking on the webtip link at www.241stop.com. These phone lines are not recorded and we do not have caller I.D.; the text messaging and webtips are also completely anonymous. Crime Stoppers will pay up to $1,000.00 for information that leads to the arrest of suspect(s) in this case, or any other serious crime. Tips can also be called into Colorado National Monument at 970-858-3617 extension 312.