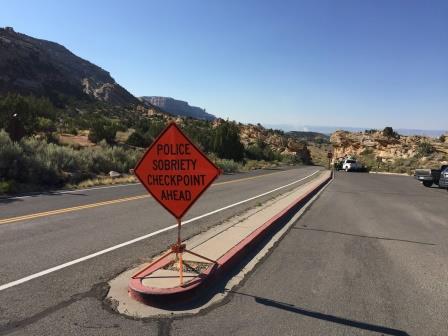 News Release Date:
August 17, 2017
Contact: Arlene Jackson, 970-858-3617 x363
Contact: Mark Davison, 970-858-3617 x364
As part of the National Park Service Traffic Safety Coalition's "Drive Sober or Get Pulled Over" initiative, park rangers, in cooperation with Colorado State Patrol and other agencies, will conduct a sobriety checkpoint at Colorado National Monument in the early evening of Saturday, August 20th. The goal of the checkpoint is to identify and remove impaired drivers in order to help ensure that Rim Rock Drive is safe for the travelling public. With 23 miles of blind curves, tunnels, cliff edges, wildlife crossings and frequent rockfall, conditions on Rim Rock Drive can be extremely challenging for motorists, cyclists and pedestrians. 
Rangers, troopers, and other officers will guide traffic into an area where each driver will be evaluated for signs of possible impairment. All law enforcement officers present will be certified on the detection of impairment by alcohol, marijuana or a multitude of other substances. Some drivers may be asked to participate in voluntary roadside maneuvers and drivers that exhibit indications of impairment will be arrested.
Yes, those found to be driving while under the influence of marijuana will be subject to arrest. Medicinal or not, driving while high is illegal. Additionally, because Colorado National Monument is federal property, even simple possession of marijuana is illegal.
The majority of Serious Bodily Injury and Fatal crashes on Colorado's roadways have contributing factors of lack of seatbelt usage, distracted or aggressive driving or driving while impaired. Many of the most deadly of these crashes contain a combination of two or more of these factors. One hundred percent of these factors can be stopped by prudent driving decisions. A DUI or DUID (Drugs) charge can cost upwards of $10,000 or worse yet someone's health or life!
Anyone observing a dangerous driver in Colorado National Monument is encouraged to call 911.
Summer hours are now in effect at Colorado National Monument. The visitor center is open from 8 a.m. to 6:00 p.m. daily.
For additional information please visit www.nps.gov/colm or call 970-858-3617, ext. 360.