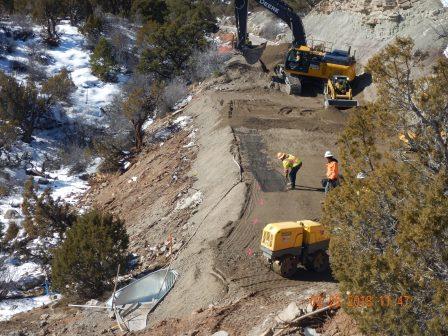 News Release Date:
February 28, 2018
Contact: Arlene Jackson, 970-858-3617 x363
Contact: Dan Hallett, 970-858-3617 x346
Fruita, CO – The small portion of Rim Rock Drive that was scheduled to re-open this week will remain closed one additional week. It is now scheduled to open March 9, 2018.
Due to weather delays, the work in the small portion of the road between Highland View Overlook and Artist Point Overlook is taking a bit longer.  The work involved completely removing the road base in a section of road that had continued to slump.
To allow the greatest use of the remainder of Rim Rock Drive and to access to all hiking trails, bicyclists and passenger cars/trucks will be allowed to Artists Point and Highland View before being directed to turnaround. Oversized vehicles such as RVs, box trucks and vehicles towing trailers will be directed to turn around at 16 ½ Road and Independence Monument View Overlook.
The visitor center is open and can be accessed from the Fruita entrance.
Colorado National Monument is partnering with the Federal Highway Administration for work in three areas along Rim Rock Drive between now and July 31, 2018. The project was awarded to Old Castle SW Group, Inc., a local Grand Junction company.
The goal of everyone associated with the project is to accomplish the needed work in an efficient manner and provide for the safety of staff, community members and visitors.
Winter hours are now in effect at Colorado National Monument. The visitor center is open from 9:00 a.m. to 4:30 p.m. daily. Spring hours (9:00 a.m. – 5:00 p.m.) will start March 3, 2018. For additional information please visit www.nps.gov/colm or call 970-858-3617, ext. 360.
-www.nps.gov-
About the National Park Service: More than 20,000 National Park Service employees care for America's 413 national parks and work with communities across the nation to help preserve local history and create close-to-home recreational opportunities. Visit us at www.nps.gov, on Facebook www.facebook.com/nationalparkservice, Twitter www.twitter.com/natlparkservice, and YouTube www.youtube.com/nationalparkservice.