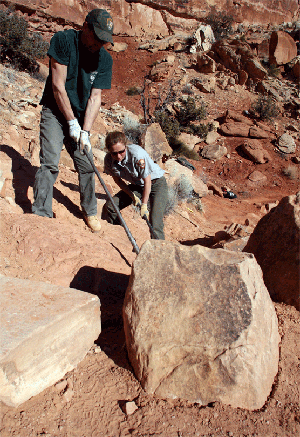 News Release Date:
May 10, 2009
Colorado National Monument will receive a total of $228,000 in funding from the American Recovery and Reinvestment Act of 2009. The Monument was originally allocated 58K for trails maintenance. However, as funding was further sorted, the Monument's proposal for trail improvements to the Monument Canyon Trail was deemed a high priority and received additional funds.
This is part of a $750 million investment in nearly 800 projects throughout the National Park Service, which was announced in April by Interior Secretary Ken Salazar in Washington, DC.
The money will be used to perform preventative maintenance and re-build sections of trail with the help of new seasonal trails workers. More than 160,000 people hike the Monument's trails each year.
Monument Superintendent, Joan Anzelmo, expressed appreciation for the new funding that will provide much needed trail improvements. " Visitors to the Monument will directly benefit from this work. Furthermore we are employing local people as well as several Mesa State College students to perform this work. It's a win-win for all of us. We get much needed trail work accomplished and local folks are being employed in seasonal jobs, doing meaningful work for the country and the local Grand Valley community."
Colorado National Monument's history includes the enduring work of the Civilian Conservation Corps (CCC), who built the park's famous Rim Rock Drive along with several park trails and buildings as part of the "New Deal".
It is in the spirit of the CCC era projects that the Monument applied for this special funding in hopes of engendering a new generation of conservation workers, all the while vastly improving the Monument's popular trails.