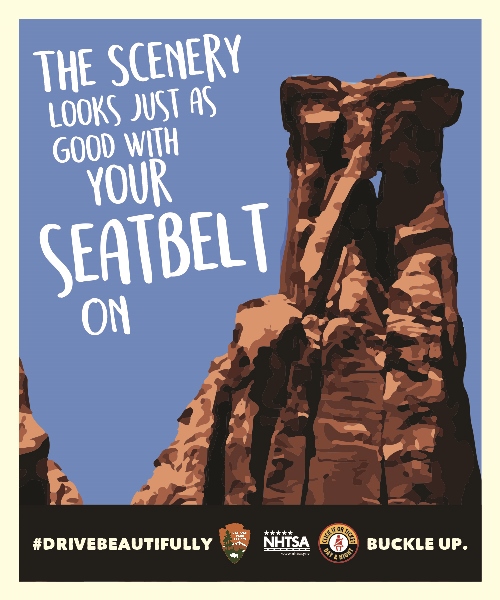 News Release Date:
May 3, 2017
Contact: Al Graham, NHTSA, 720-403-4212
Contact: Arlene Jackson, 970-858-3617 x363
[Fruita, Colorado] - As the summer kicks off and families hit the road, the National Highway Traffic Safety Administration (NHTSA) and the National Park Service (NPS) are teaming up to increase seat belt use in and around national parks and monuments this summer.  
On May 5, 2017, local, state, and Federal agencies will host a press event to educate park visitors about the Federal law that
requires
the use of seat belts when driving or riding as a passenger in all units of the National Park Service. The event will take place at the Colorado National Monument visitor center at 2:00pm. The press event will highlight the agencies' collaborative efforts to enforce seat belt laws and increase voluntary compliance by motorists. NHTSA's Associate Administrator Maggi Gunnels and NPS Law Enforcement Chief Charles Cuvelier will present an award to the Colorado National Monument staff for their outstanding traffic safety efforts throughout the year to keep all visitors safe.  
Chief Charles Cuvelier shares, "The National Park Service is proud to join NHTSA in the Click or Ticket efforts to reduce serious motor vehicle injuries and fatalities. With over a century of serving the public and providing unique sites to visit throughout the United States, we want these experiences to be safe and enjoyable. A visit to our National Parks does not have to end in tragedy, please take the time to 'Click it!'" NHTSA and NPS began a comprehensive plan in December 2014 to reduce the number of traffic crashes in national parks, and adopted the Toward Zero Deaths strategy. More than 150 sites across the country have joined forces to save lives through education, enforcement, engineering and EMS response.   
According to the National Highway Traffic Safety Administration, nearly half of the 22,441 passenger vehicle occupants killed in crashes in 2016 were unrestrained, and in 2016, half of the 608 vehicle traffic deaths in Colorado were the result of being unbuckled.  Park rangers and partnering law enforcement agencies will be taking a no-excuses approach to seat belt law enforcement in the coming month to ensure community members and park visitors arrive to and from their destinations safely--every trip, every time.  
Colorado National Monument rangers will be paying extra attention to ensure all vehicle occupants are buckled up. Some visitors don't take the time to buckle their seatbelts, or their children's, as they drive from overlook to overlook. The staff wants to encourage everyone to always buckle up even for short distances.  
Superintendent Ken Mabery states, "We want to keep our park visitors safe by making sure that people are doing the one thing that can increase their chances of survival in an accident
: buckling up
. If the education and enforcement efforts wake people up to the dangers of unrestrained driving and reminds them to buckle up, we'll consider it a success. Please help us by making sure every driver and passenger is properly restrained."  
The 2017 CIOT National Seat Belt Enforcement Mobilization is May 15 - June 4, 2017.  For more information on the
Click It or Ticket
mobilization, please visit
www.nhtsa.gov/ciot
.