Prickly Pear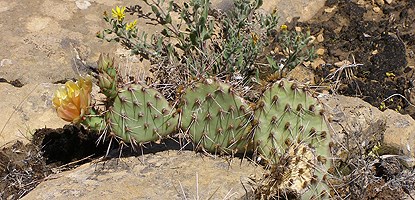 Prickly pear is an important native plant. It is a protective site for a rodent to burrow under. During drought years they are an important food source for grazing animals. During wetter years the largest species of prickly pear produces a red fruit that is as good and sweet as an apple or pear. This fruit is highly prized by coyotes and a treat for the knowledgeable hiker.
Prickly pear pads are enlarged and have flattened stems. Their function is photosynthesis (energy capture and food production). They also store food and water. The spines grow from the point that produces leaves in other plants. The pads have a wax coating that masks the bright green underneath. The darker green would absorb too much light and cause the plant to cook under intense sunlight on a hot summer day. As the pad dries and shrinks in size during drought, the wax surface wrinkles producing an even duller color. During dry periods some pads take on a reddish color which protects the plant from ultra violet light. Stems will on the average produce a new pad each year and the pad lives for around ten years. As the old pads die the newer pads can send down roots so the plant can continue mining for nutrients and water.
During late spring and early summer these plants put on a great show. The flowers are large with waxy appearing petals. The flowers can be yellow-green, yellow, bronze, pink or violet.
In the center is one bright green stigma surrounded by hundreds of stamens. The stamens are touch sensitive and curl in on beetles as they forage within the flower. This covers the beetles with pollen that they carry to the next cactus blossom.
Last updated: February 24, 2015