Purple Fruited Prickly Pear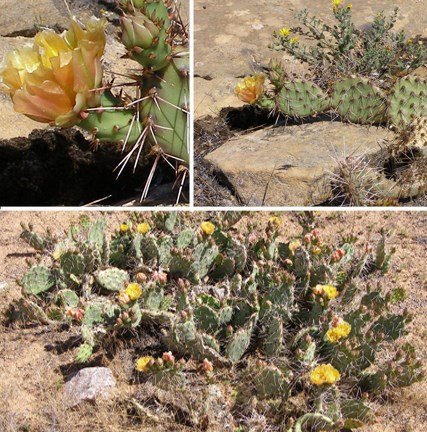 Purple-Fruited Prickly Pear Cactus (Opuntia phaeacantha var. phaeacantha)
Other Names: tulip prickly pear
Family: Cactaceae (Cactus Family)
Description: a spreading, mat-forming cactus growing up to 2 feet tall. Purplish pads are up to 6 inches long, with spines up to 2 inches covering only the upper half of the pad. Yellow flowers appear in May to June, with purple fruits present by late July.
Range: occurs from California to Kansas and south to Texas. Look for it growing throughout Colorado National Monument and in surrounding areas.
Did you know: the purple fruit for which the purple-fruited prickly pear is named is as sweet as the more familiar apple or pear. It's used as a food source by the monument's wildlife, especially coyotes. Collecting prickly pear fruit is prohibited in the monument. If you are in an area where you can collect it, you can help wildlife by leaving some fruit behind on the cactus.
Last updated: March 1, 2022