Purple Fruited Prickly Pear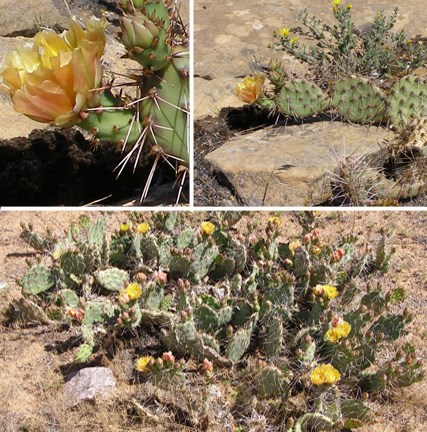 Purple-Fruited Prickly Pear Cactus (Opuntia phaeacantha var. phaeacantha)
Other Names: tulip prickly pear
Family: Cactaceae (Cactus Family)
Description: a spreading, mat-forming cactus growing up to 2 feet tall. Purplish pads are up to 6 inches long, with spines up to 2 inches covering only the upper half of the pad. Yellow flowers appear in May to June, with purple fruits present by late July.
Range: occurs from California to Kansas and south to Texas. Look for it growing throughout Colorado National Monument and in surrounding areas.
Did you know: the purple fruit for which the purple-fruited prickly pear is named is as sweet as the more familiar apple or pear. The fruit of the prickly pear may make a delicious treat for the knowledgeable hiker, but watch out-the fruit, which often bears thorns, is also a favorite snack of coyotes.
Last updated: February 24, 2015