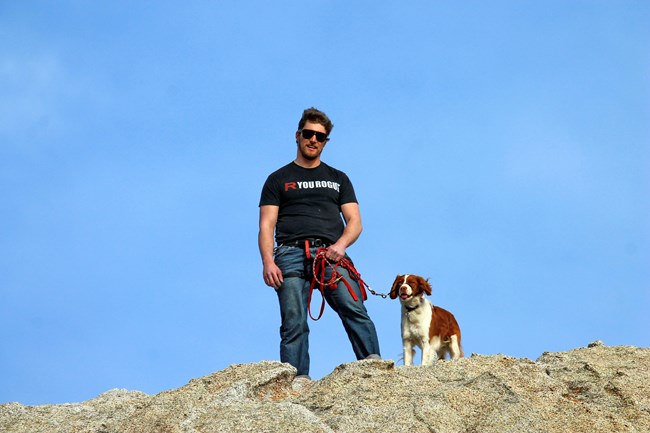 Pets are always welcome in the park. Pets are not allowed in the visitor center, lodging or in other public buildings. They must be kept on a leash no longer than six feet, or confined to a tent, vehicle, or camper; however, pets must not be left unattended, Owners must clean-up pet feces and properly dispose of waste in trash cans. Dogs must not be allowed to dig, especially at staging/climbing areas. Dogs are allowed on the trails. NOTICE: Due to the number of negative encounters with dogs that has resulted in injuries to visitors, other dogs, and wildlife, park rangers are issuing citations.
Equestrian Livestock
City of Rocks offers the Juniper Group Site for equestrian campers. This area is remote and primitive. Please help us maintain the scenic quality and natural resources of the campground by adhering to the following rules:
Do not tie stock directly to a tree or hitch line.
Do not take stock through the main camping areas (except when traveling from Tea Kettle Trail to Box Top Trail.
Use weed-free hay or pellets and if possible suspend hay in a hay net.
Please remove manure and excess hay from sites.
Carry a tool to scatter remaining hay or waste and to smooth out the area of impact.