Auto Touring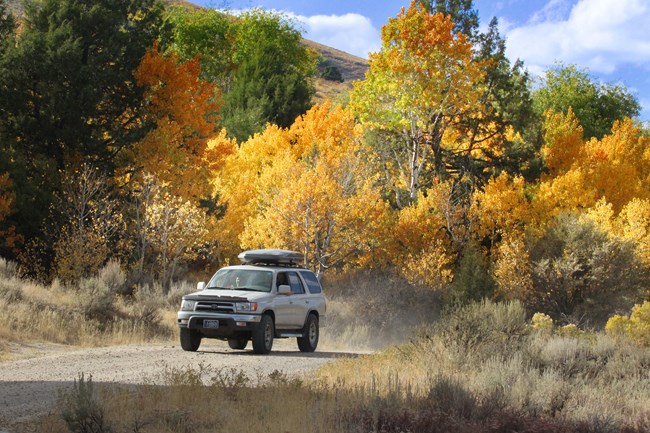 Auto touring is one of the best ways to enjoy City of Rocks. The journey technically begins in Albion - the starting point for the 49-mile City of Rocks Back Country Byway. Upon reaching Almo, be sure and stop at the City of Rocks/Castle Rocks visitor center for information and to watch the 8-minute orientation video that provides a great overview of City of Rocks geology, history, and things to do. The visitor center also offers books, apparel, and souvenirs.
Near the east entrance to the Reserve, drive up the narrow-winding road to the Circle Creek Overlook (elevation 6,120). On a clear day, you can see the Bear River Mountains over 100 miles away! The Geological Interpretive Trail begins at the overlook parking area.
Auto tourists should also plan a stop at Camp Rock or Register Rock to view the many signatures in axle-grease, left by California-bound emigrants (1843-1882). Follow the California National Historic Trail for interpretive exhibits on Pinnacle Pass, Twin Sisters, and views to the famed Granite Pass.
If your interest is scenery and geology, continue on the City of Rocks Road. Watch for climbers on Elephant Rock, Bath Rock, and at the Morning Glory Spire viewpoint. Plan a picnic in the shade of aspens and the Bread Loaves monolith at the Emery Pass Picnic Area. The byway continues another 15 miles down Emery Canyon and Birch Creek Canyon to the historic town of Oakley.
Last updated: October 17, 2019